Diseño de un prototipo del sistema de automatización de flujo hídrico para el proceso de rociado en una embutidora en San Antonio del Tejar.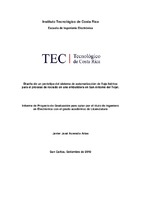 Date
2019
Author
Acevedo-Arias, Javier José
Abstract
The project was developed in the company Cinta Azul Ltda, currently located in San Antonio del Tejar, in the province of Alajuela, this is a production plant of sausages with a trajectory of more than 50 years, however, this was acquired by Cargill Meats Latin America in 1999 and they still have the franchise. The sausage plant has a shower room, located in the packaging department, this room has six pipes distributed in quadrants with the task to dispensing water to the products, that come out of the baking process, to reduce the temperature to a suitable one and in this way to be able to enter the product into the cold store before being packaged. From the beginning, Cinta Azul has expend a lot of water by inefficient spray systems, currently the system is manually operated by an operator, that is, he is responsible for entering the product into the room, open the valves manually and time the shower empirically, without any instrument to help him verify the time. According with Cinta Azul, with intermittent spraying programs, we can achieve a significant reduction in water consumption and the necessary temperature reduction in the product to continue the production flow without problems. So, using timers, sensors and actuators, has advantage in the efficiency in the use of water resource, the optimization of operator works and process standardization. This report shows the design process of the automatic shower system proposed, with verification of operation through simulations and field test in the SIMTEC automation laboratory of the Industrial Production School of Instituto Tecnológico de Costa Rica.
Description
Proyecto de graduación (Licenciatura en Ingeniería en Electrónica) Instituto Tecnológico de Costa Rica. Escuela de Ingeniería Electrónica, 2019.
Collections