Comportamiento productivo de materiales de siembra de ñame (dioscorea alata) en la Región Huetar Norte, Costa Rica.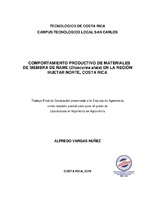 Fecha
2019
Autor
Vargas-Núñez, Alfredo
Resumen
The research objective was to determine the productive behavior of different planting materials in yam (Dioscorea alata) free of pests respect to conventional seed in Santa Clara, San Carlos, Costa Rica. The treatments evaluated were plants from yam cuttings, sections of rhizomes from conventional seed, second-generation rhizomes obtained from in vitro plants, yam vitroplants, conventional seed section from the lower or apical part of the rhizome and conventional seed fractions from the upper section or head of the rhizome. The sprouting percentage, pest infection rate and the yield quality were evaluated in the different yam planting materials. The results obtained showed that the survival percentage was low on plants from cuttings and yam vitroplants, until they reached the total death. On the other hand, significant differences were found in the sprouting percentage between the lower and upper seed sections over time, obtaining the best results in this last treatment (94%). It was also possible to diagnose different pathogens affecting the crop, but more leaf lesions were related to Colletotrichum gloeosporioides, evidencing a high disease susceptibility when lower seed section and second-generation rhizomes were used. Regarding the production, the highest values were obtained using upper yam seed section and second-generation rhizomes; however upper yam seed treatment showed the highest yield on export yam quality (19,19 tons/ha).
Descripción
Tesis (Licenciatura en Ingeniería en Agronomía). Instituto Tecnológico de Costa Rica. Escuela de Agronomía, 2019.
Colecciones