Manual de procedimientos para el área administrativa de la Asociación de Desarrollo Integral de la Fortuna (ADIFORT).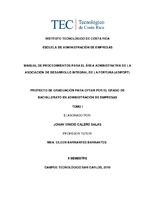 Date
2019
Author
Calero-Salas, Johan Vinicio
Abstract
The objective of this project is to prepare a manual of procedures for the administrative area of the Association of Integral Development of Fortune (ADIFORT), San Carlos. The manual is a document that contains the description of different procedures that are performed in the company, as well as a graphical representation of these, through flow charts. Each procedure was analyzed in order to raise the proposal with the improvements identified. In addition, the Feedback matrix method was used to perform an analysis of the documented procedures. The procedures were collected through questionnaires applied directly to those in charge of the procedures, later they were endorsed by the leadership or board of directors. The procedures manual was made in order to support the work of the administrative area, since they did not have a documented guide of procedures to elaborate more effectively the different activities present in this area.
Description
Práctica Profesional (Bachillerato en Administración de Empresas). Instituto Tecnológico de Costa Rica, Escuela de Administración de Empresas, 2019.
Collections