Safety design of a hybrid wind-solar energy system for rural remote areas in Costa Rica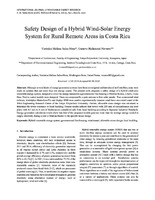 Date
2020
Author
Salas-Mora, Veronica Melissa
Richmond-Navarro, Gustavo
Abstract
Although several kinds of energy generation systems have been investigated and introduced in Costa Rica, none were made on systems that use more than one energy source. The present work proposes a safety design of a hybrid wind-solar renewable energy system, designed to cover the energy demand in a governmental free housing at Martina Bustos, Liberia, Costa Rica. Twelve scaled models were designed. These are composed of a pole and one to four solar panels. Two commercial wind turbines, Airdolphin Mark-Zero/Pro and Zephyr 9000 were used to experimentally measure wind force on a wind tunnel at the Wind Engineering Research Center of the Tokyo Polytechnic University. Further, allowable stress design was calculated to determine the tower resistance to local buckling. Present results indicate that towers with 200 mm of the circumference and steel plates with 4.5 mm to 8 mm of thickness are considered safe from local buckling according to Japanese Industrial Standards. Energy generation calculation results show that four of the proposed models generate more than the average energy needed to supply electricity during a year at Martina Bustos to the specific house design.
Description
International Journal of Renewable Energy Research-IJRER. Vol 10, No 1 (2020)
Source
International Journal of Renewable Energy Research-IJRER
Related items
Showing items related by title, author, creator and subject.
Guzmán-Hérnandez, Tomás J.; Obando-Ulloa, Javier M.; Araya-Rodríguez, Freddy; Castro-Badilla, Guillermo

Guzmán-Hernández, Tomás de Jesús

;

Araya-Rodriguez, Freddy

;

Obando-Ulloa, Javier Mauricio

;

Rivero-Marcos, Mikel

;

Castro-Badilla, Guillermo

;

Quiroz-Vinda, Gonzalo

;

Rodríguez-Rojas, Deyver Antonio

;

Arce-Hernández, Natalia

;

Ortega-Castillo, Juan Manuel

;

Oviedo-Ortega, Stephanie

;

García-Castro, Guillermo

;

Moreira-Segura, Cristian

;

Arguelles-Ulloa, Valentina

;

Ortiz-Martínez, Jacobo

;

Fernández-Rodríguez, Marcela

(

Instituto Tecnológico de Costa Rica

,

2021

)

Este manual se pretende mostrar los resultados de la aplicación de esta energía en sistemas de producción agropecuaria en la Región Huetar Norte de Costa Rica. Para ello se ha montado varios sistemas térmicos y uno ...

Guzmán-Hernández, Tomás J.; Obando-Ulloa, Javier M.; Álvarez de Eulate, Xabier; Ilundain-López, Raúl; Juan-Pérez, Paola; Castro-Badilla, Guillermo