Limón, vislumbra un nuevo rostro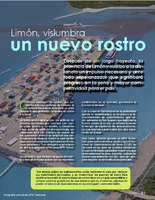 Installation remarks
Descargar el PDF y abrir con cualquier programa en cualquier sistema operativo. También se puede acceder al artículo en la web. Browser: Cualquiera. Browser plugin: Adobe Flash Player.
Date
2015
Author
Oficina de Comunicación y Mercadeo, Instituto Tecnológico de Costa Rica
Educational Resource
Abstract
Después de un largo trayecto, la provincia de Limón visualiza a la distancia un impulso necesario y ante todo esperanzador que significará progreso en la zona y mayor competitividad para el país.
After a long journey, the province of Limón visualizes from a distance a necessary and above all hopeful impulse that will mean progress in the area and greater competitiveness for the country.
Source
Pensis. II Edición (abril / junio, 2015)
Resource type
Narrative text, Hypertext.
Intended users
General public
Educational level
Level::Diversified Education, Level:: Technical Education, Level::High School Diploma, Level::University, Level::III Cycle.
Keyword
Capital, Rompe olas, APM terminals, Infraestructura, Puerto.
Structure
Atomic
This structure corresponds to individual objects. For example, images, charts and figures.
Aggregation Level
2
Level 2 is a collection of level 1 objects (multimedia or fragments). For example a lesson.
Interactivity Type
Expositive
Cognitive Process
Communicate, Describe.
Show more info
The following license files are associated with this item: