Banda ancha es vital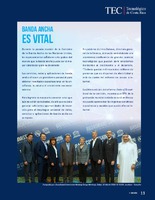 Date
2016
Author
Oficina de Comunicación y Mercadeo, Tecnológico de Costa Rica
Educational Resource
Abstract
Información y opinión de cómo la banda ancha puede llegar a ser un catalizador para el desarrollo en algunos países.
Information and opinion on how broadband can become a catalyst for development in some countries
Source
Pensis. V Edición (enero/marzo), 2016
Resource type
Narrative text
Intended users
General public
Educational level
, Level::High School Diploma, Level::University.
Keyword
Redes sociales, Servicio de banda ancha.
Structure
Collection
This structure corresponds to sets of objects without a relation among them.
Aggregation Level
1
The lowest level of aggregation. For example, multimedia or fragments.
Interactivity Type
Expositive
Context
Real environment, Home, Teacher, Family.
Cognitive Process
Analyse, Understand, Describe, Consider.
Is part of
PENSIS V Edición
Show more info
Collections