Proyectos permanentes de la Escuela de Matemáticas del TEC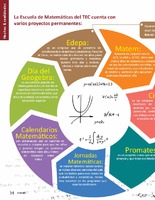 Date
2015
Author
Oficina de Mercadeo y Comunicación
Educational Resource
Abstract
El presente artículo describe diferentes congresos, talleres, programas de software y proyectos de la Escuela de Matemáticas del TEC, con el fin de estimular el aprendizaje de esta materia.
This article describes different congresses, workshops, software programs and projects of the TEC School of Mathematics, in order to stimulate the learning of this subject.
Source
Pensis. III Edición (julio/setiembre, 2015)
Resource type
Hypertext, Conceptual map.
Intended users
General public
Keyword
Talleres, Congresos, Software, Razonamiento, Estimulación.
Structure
Atomic
This structure corresponds to individual objects. For example, images, charts and figures.
Aggregation Level
1
The lowest level of aggregation. For example, multimedia or fragments.
Interactivity Type
Expositive
Context
Classroom, Real environment, Teacher, Tutor.
Cognitive Process
Share, Describe, Explain.
Show more info
The following license files are associated with this item: