Matemática. El peso pesado de todos los tiempos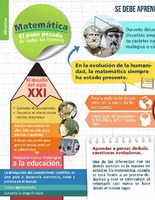 Date
2015
Author
Oficina de Mercadeo y Comunicación
Educational Resource
Abstract
En la siguiente infografía se describe cuáles son los desafíos de la matemática dentro del siglo XXI y como en la evolución de la humanidad , éste siempre ha estado presente. Además se destaca que el mercado demanda conocimiento matemático.
The following infographics describe the challenges of mathematics within the 21st century and, as in the evolution of mankind, it has always been present. In addition it is emphasized that the market demands mathematical knowledge.
Source
Pensis. III Edición (julio/setiembre, 2015)
Intended users
Learner, Tutor, General public, Teacher.
Subject
Subject::Science::General, .
Keyword
Razomaniento, Nuevas tecnologías, Oportunidades, Conocimiento, Ciencia.
Structure
Atomic
This structure corresponds to individual objects. For example, images, charts and figures.
Aggregation Level
1
The lowest level of aggregation. For example, multimedia or fragments.
Interactivity Type
Expositive
Context
Classroom, Teacher, Tutor.
Cognitive Process
Describe
Show more info
The following license files are associated with this item: