¿Latinoamérica, negada a las matemáticas?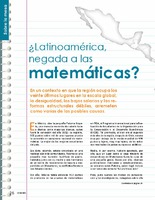 Date
2015
Author
Oficina de Mercadeo y Comunicación
Educational Resource
Abstract
Se expone un caso de una de una niña siendo de las mejores estudiantes del país de México en las matemáticas, halagada como "la futura Steve Jobs". Fue invitada a participar en unas pruebas de cálculo en la prestigiosa universidad el Instituto Tecnológico de Monterrey pero fue descalificada en la primera etapa. México había obtenido 413 puntos de promedio en las pruebas de matemáticas en PISA, el Programa Internacional para la Evaluación de Estudiantes de la Organización para la Cooperación y el Desarrollo Económicos (OCDE). Tal promedio, si bien era el segundo más alto de la región, después de Chile, estaba muy por debajo de la media mundial de 494 puntos y lejano, muy muy lejano, de los exitosos resultados de países europeos o asiáticos. Por esta situación con la niña, esto prevaleció en toda América Latina, región que en la última prueba PISA, en 2012, registró los veinte peores resultados del mundo, siendo Perú el país con calificación más baja.
The case of one of a girl is presented being of the best students of the country of Mexico in the mathematics, flattered like "the future Steve Jobs". She was invited to participate in a test of calculation in the prestigious university the Technological Institute of Monterrey but was disqualified in the first stage. Mexico had obtained 413 points on average in math tests at PISA, the Organization for Economic Co-operation and Development's (OECD) International Student Assessment Program. This average, although it was the second highest in the region, after Chile, was well below the world average of 494 points and far, far away, from the successful results of European or Asian countries. Because of this situation with the girl, this prevailed throughout Latin America, a region that in the last PISA test, in 2012, recorded the worst 20 results in the world, Peru being the country with the lowest score.
Source
Pensis. III Edición (Julio/Setiembre, 2015)
Resource type
Illustration, Narrative text.
Intended users
General public
Educational level
Level::University, Level::III Cycle, .
Subject
Subject::Science::General
Keyword
Pruebas de rendimiento, sistema educativo, oportunidades educativas, becas, desigualdad.
Structure
Atomic
This structure corresponds to individual objects. For example, images, charts and figures.
Aggregation Level
1
The lowest level of aggregation. For example, multimedia or fragments.
Interactivity Type
Expositive
Cognitive Process
Describe, Self assessment, Explain.
Show more info
The following license files are associated with this item: