Crecimiento, producción y extracción nutricional en los cultivos protegidos de chile dulce (Capsicum annuum L.) y tomate (Solanum lycopersicum L.) utilizando dos soluciones nutritivas en Santa Clara, San Carlos, Costa Rica.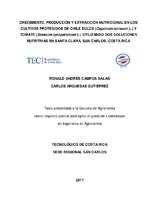 Date
2017-01
Author
Campos-Salas, Ronald Andrés
Arguedas-Gutiérrez, Carlos
Abstract
This experiment was between December 2014 and June 2015 in San Carlos, Costa Rica. In order to evaluate vegetative growth, fruit production and nutritional extraction, two essays were performed with two horticultural species of Solanaceae family under greenhouse with an open hydroponic system using different nutrient solutions (SN-A and SN-B). Were used cultivars 4212 and Nathalie of sweet pepper (Capsicum annum L.), and cultivars JR and Lyro of tomato (Solanum lycopersicum L.). Each essay counted with three replications for two treatments in a Completely Randomized Design (DCA) with factorial array. During the growing cycle, variables of vegetative growth, fruit production and nutritional extraction were measured. The height of the plant showed statistically significant differences, the height was higher when the plants were irrigated with SN-A, and cv. Nathalie showed higher height than cv. 4212. Likewise, the number of fruits curdled per plant showed differences, the plants irrigated with SN-A obtained a greater quantity. The number of leaves per plant, number of fruits harvested per plant, harvest weight and vegetative dry weight did not present significant differences. In the tomato crop there were no statistically significant differences for the variables of vegetative growth and fruit production. The nutritional extraction order of macronutrients was K>N>Ca>Mg>P in both cultures, while the nutritional extraction order of micronutrients differed, for sweet pepper was Fe>Cu>Mn>Zn, and in tomato was no definite nutritional extraction order. Crop management, climatic conditions and presence of pests and diseases affected directly vegetative growth, fruit production and nutrient extraction of sweet pepper and tomato plants.
Description
Tesis (Licenciatura en Ingeniería en Agronomía). Instituto Tecnológico de Costa Rica, Escuela de Agronomía, 2017.
Collections