Modelo de decisión para la implementación de proyectos de optimización espacial en el departamento de gestión inmobiliaria de la empresa Citi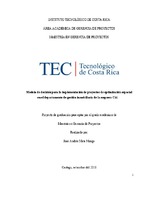 Date
2018
Author
Mata-Monge, José Andrés
Abstract
The present research work was carried out in the Real Estate management department, which acts as a Real Estate consultant and strategic partner administrator of the operating properties for the Citi financial corporation. Following a new global strategy, the corporation establishes the new goal to sell the consumer banking division in many countries around the several regions of the globe. In Central America, this decision implies the sale and closure of operating properties and a consolidation and transformation strategy. The Real Estate department has the goal to propose and carry out space optimization projects throughout all the properties of the Central American portfolio, in order to adapt the new operations and maximize the resources in the buildings. To achieve this goal, a series of projects and initiatives are created, which must be selected and prioritized in order to guarantee maximum efficiency, aligned with the strategic corporate goals. The main problem within the organization is that there is a lack of a methodology and processes for the selection and prioritization of projects, which facilitates the decision-making process. Therefore, the present investigation work takes as a main goal the design of a decision model that allows the selection and prioritization of those projects that provide the maximum benefit to the organizational strategy. To solve the problem, a series of specific objectives were defined, which seek to understand the current context of the organization based on the project selection and prioritization processes, then analyze the best practices in the market in relation to the selection and prioritization processes, to finally be able to establish a comparative analysis between the situation of the organization and the best practices to establish a gap and then a proposal solution that closes that gap. Finally, a customized solution tailored for the nature of the organization is developed, based on the Portfolio Management Methodology developed by the Bible and Bivins authors.
El presente trabajo de investigación se llevó a cabo en el departamento de gestión inmobiliaria, el cual ejerce como consultor de bienes raíces y socio estratégico administrador de las propiedades operativas para la corporación financiera Citi. A raíz de una nueva estrategia global, se establece el objetivo de vender la banca de consumo para muchos de los países en diferentes regiones del globo. A nivel centroamericano, esto implica la venta y cierre de propiedades operativas y una estrategia de consolidación y transformación. El departamento de bienes inmuebles tiene la meta de crear proyectos de optimización del espacio a lo largo de todo el portafolio de propiedades de Centroamérica, con el fin de adaptar las nuevas operaciones y maximizar los recursos en los edificios. Para ello, se crean una serie de proyectos e iniciativas las cuales deben ser seleccionadas y priorizadas adecuadamente para garantizar la máxima eficiencia, alineado a los objetivos estratégicos. Sin embargo, dentro de los procesos de la organización en la actualidad, no existe un modelo de selección y priorización que facilite la toma de decisiones, por lo que el presente trabajo toma como objetivo general el diseño de un modelo de decisión que permita la selección y priorización de aquellos proyectos que aporten el máximo beneficio a la estrategia organizacional. Para dar solución al problema, se establecen una serie de objetivos específicos, en los cuales se busca comprender el contexto actual de la empresa en función de los procesos de selección y priorización de proyectos, luego analizar las mejores prácticas en el mercado relacionados con esos procesos, para finalmente poder establecer un análisis comparativo entre el estado de la organización y las mejores prácticas para establecer una brecha y posteriormente una propuesta de soluciones que cierre esa brecha. Finalmente, la respuesta se apoya en la metodología desarrollada por los autores Bible y Bivins para la gestión de portafolios y se desarrolla una adaptación hecha a la medida para la naturaleza de ese organismo.
Description
Proyecto de Graduación (Maestría en Gerencia de Proyectos) Instituto Tecnológico de Costa Rica, Área Académica de Gerencia de Proyectos, 2018.
Collections