Modelo para la gestión de proyectos de la cooperativa autogestionada de hábitat Coopeberaca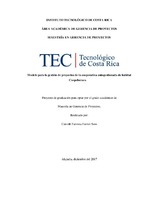 Date
2018
Author
Farrier-Soto, Carsoth Fariessa
Abstract
This paper compiles the experience in project management in the first self-managed habitat cooperative in Costa Rica, developed with the intention of improving the performance and impacting in a positive way the associates as employees, partners and house owners. For this, a qualitative field research was carried out, according to the most convenient techniques for the context, later resorting to the analysis of the information gathered for the construction of the starting scenario. In this way, from a series of approaches, a mirror of the current state was built and the findings were contrasted with the best management practices. Based on the above, a solution proposal was developed to close the gaps between the best practices and the current state, taking into account the complexity and specific needs of the institution in question. As part of the result, processes and tools were developed, within which the transition process and training required for the implementation of the solution proposed are contemplated, where the main recommendation is the participation of the greatest number of affiliates in the stage of awareness raising in project management.
El presente documento recopila la experiencia en gestión de proyectos en la primera cooperativa de autogestión de hábitat de Costa Rica, desarrollado con la finalidad de mejorar los rendimientos de la cooperativa e impactar positivamente a sus afiliados tanto en su rol de empleados, socios y propietarios de las viviendas Para lo anterior, se realizó una investigación cualitativa de campo, según las técnicas más convenientes para el contexto, recurriendo posteriormente al análisis de la información recopilada para la construcción del escenario de partida. De este modo, a partir de una serie de acercamientos, fue construido un espejo del estado actual y fueron contrastados los hallazgos, con las mejores prácticas de gestión. Con base en lo anterior, fue desarrollada una propuesta de solución para cerrar las brechas entre las mejores prácticas y el estado actual, teniendo en consideración la complejidad y necesidades específicas de la institución en cuestión. Como parte del resultado, se desarrollaron procesos y herramientas, dentro de los cuales se contempla el proceso de transición y capacitación requerido para la implementación de la propuesta de solución, donde la principal recomendación es la participación de la mayor cantidad de afiliados en la etapa de sensibilización en administración de proyectos.
Description
Proyecto de Graduación (Maestría en Gerencia de Proyectos) Instituto Tecnológico de Costa Rica, Área Académica de Gerencia de Proyectos, 2018.
Collections