Integración de prácticas ágiles a la metodología para la gestión de proyectos del Área de Desarrollo de Sistemas del Centro de Informática de la Universidad de Costa Rica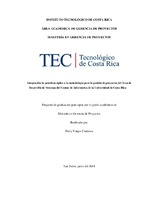 Date
2018
Author
Vargas-Carranza, Dany
Abstract
This research shows the analysis that was led to identify agile practices that are implemented in the Systems Development Area of the Computing Center of the Universidad de Costa Rica and how to integrate them into the existing project management methodology, which has a structure based on Knowledge Areas and Process Groups proposed by PMI®. The strategy was to establish a state of transition, in which the current methodology is kept and the main processes in the Knowledge Areas of Integration, Scope, Time and Quality that have generated conflict, due to not being updated to the agile approach are adapted. The methodology used for the research made it possible to obtain a diagnosis of the current situation of the area in project management, to analyze the role of the project manager when coexisting with other agile roles, as well as to collect the agile practices recommended in industry, facilitating the identification of gaps in the area and proposing a plan for the integration of the recommended agile practices.
Este trabajo expone el análisis que se realizó para identificar las prácticas ágiles que se llevan a cabo en el Área de Desarrollo de Sistemas del Centro de Informática de la Universidad de Costa Rica, e integrarlas a la metodología para gestión de proyectos existente, que tiene una estructura basada en Áreas de Conocimiento y Grupos de Procesos propuesta por PMI® . La estrategia consistió en establecer un estado de transición, en el cual se mantiene la metodología actual y se adaptan los principales procesos que han generado conflicto por no estar actualizados al enfoque ágil, en las Áreas de Conocimiento de: Integración, Alcance, Tiempo y Calidad. La metodología empleada para el trabajo permitió obtener un diagnóstico de la situación actual del área en la gestión de proyectos, analizar el rol del Director de Proyectos al coexistir con otros roles ágiles, así como recolectar las prácticas ágiles recomendadas en la industria, de tal forma que se facilitara la identificación de las brechas que presenta el área y plantear una propuesta de integración de las prácticas ágiles recomendadas.
Description
Proyecto de Graduación (Maestría en Gerencia de Proyectos) Instituto Tecnológico de Costa Rica, Área Académica de Gerencia de Proyectos, 2018.
Collections