Estrategia para la Gestión de Proyectos en el Programa de Ecoturismo del Área de Conservación Guanacaste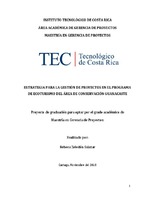 Date
2018
Author
Zeledón-Salazar, Rebeca
Abstract
The present work was carried out in the Programa de Ecoturismo (PET) of Área de Conservación Guanacaste (ACG), which is responsible for facilitating the exploration and enjoyment of natural and cultural attractions for visitors, while promoting the conservation of natural resources. The main goal of this research is to prepare a proposal for the project management area of the Programa de Ecoturismo of Área de Conservación Guanacaste. The proposal´s purpose is to create a methodological guide, focused on standardizing the activities related to project management. The methodology employed had a qualitative, descriptive, applied and transversal approach. The data used for the research was collected through surveys, interviews, expert judgment and documentary analysis. The information gathered was analyzed to describe the current situation of the organization in terms of project management. At the same time, different project management methodologies were studied in order to pull together the best practices, and thus identify the existing gap in the organization under study, when comparing the current situation with those best practices. The above, provided the necessary information for the development of a methodological guide for project management, aimed at standardizing the processes of the organization. This guide is composed of templates and tools that will work as a roadmap for the members of the PET during the life cycle of the projects.
El presente trabajo se llevó a cabo en el Programa de Ecoturismo (PET) del Área de Conservación Guanacaste (ACG), que se encarga de facilitar a los visitantes la exploración y el disfrute de los atractivos naturales y culturales, promoviendo al mismo tiempo la conservación de los recursos naturales. El principal objetivo de esta investigación, consiste en la elaboración una propuesta para el área de gestión de proyectos del Programa de Ecoturismo del Área de Conservación Guanacaste. La propuesta tiene como fin crear una guía metodológica, enfocada en estandarizar las actividades relacionadas con la administración de los proyectos. La metodología empleada tuvo un enfoque cualitativo, de tipo descriptiva, aplicada y transversal. Los datos utilizados para la investigación se recopilaron por medio de encuestas, entrevistas, juicio experto y análisis documental. La información recolectada fue analizada para así describir la situación actual de la organización en materia de gestión de proyectos. Al mismo tiempo, diferentes metodologías en el área de proyectos fueron estudiadas con el fin de recopilar las mejores prácticas, y así identificar la brecha existente en la organización en estudio al comparar la situación actual con esas mejores prácticas. Lo anterior, brindó la información necesaria para la elaboración de una guía metodológica en administración de proyectos, orientada a estandarizar los procesos de la organización. Dicha guía está compuesta por plantillas y herramientas que funcionarán como una hoja de ruta para los miembros del PET durante el ciclo de vida de los proyectos.
Description
Proyecto de graduación (Maestría en Gerencia de Proyectos) Instituto Tecnológico de Costa Rica, Área Académica de Gerencia de Proyectos, 2018.
Collections