Diseño del sistema de control tipo batch para las pruebas de vida útil de 10A 10/1000 s de los componentes GDT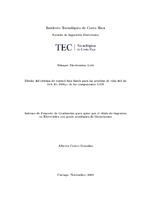 Date
2018
Author
Castro-González, Alberto
Abstract
The 10x1000 s lifetest are quality control processes performed on the GDT components. The system in charge of recreate this tests in the company is very old and show important deficiencies in the process. Among them, the most important lack in the system is the low level of automation, especially in the preparation of the test, because this system require a great contribution of the operator to generate the lifetest. This proyect shows the process of designing an algorith for automatic batch type system, capable of increase the automation level for the test. The LabView tool was used to achieve a complete system with a more intuitive graphical interphace. Throughout this work the results obtained for the design algorith will be shown and will be supported with the ITU-T k.12 standard.
Las pruebas lifetest 10x1000µs son procesos de control de calidad para los componentes GDT. El sistema encargado de recrear estas pruebas actualmente en la empresa es muy antiguo y empieza a mostrar carencias importantes, entre ellas la más destacada es el bajo nivel de automatización, especialmente en la preparación de las pruebas, ya que estas requieren gran aporte del usuario para generar cada prueba. Este trabajo muestra el proceso de diseño de un algoritmo para el sistema automático tipo batch, capaz de lograr un nivel de automatización mayor para la prueba. Para esto se utilizó la herramienta de LabView con el fin de obtener un sistema más completo con una interfaz gráfica más intuitiva. A lo largo del trabajo se mostrarán los resultados obtenidos para el algoritmo diseñado y se respaldarán los resultados obtenidos con el estándar ITU-T k.12.
Description
Proyecto de Graduación (Licenciatura en Ingeniería Electrónica) Instituto tecnológico de Costa Rica, Escuela de Ingeniería Electrónica, 2018.
Collections