Modelo para la gestión del alcance, costo y tiempo de los proyectos en la Oficina de Ingeniería del Tecnológico de Costa Rica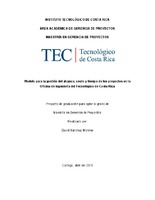 Date
2019
Author
Sánchez-Monney, David Orlando
Abstract
The Technological of Costa Rica is an autonomous national university higher education institution dedicated to teaching, research and extension of technology and related sciences for the development of Costa Rica. The Engineering Office is the unit that is part of the Technological of Costa Rica and is in charge of the development of the physical space of the institution, for which it handles a master plan of each of the venues and according to the needs of the institution, performs the planning and development of construction projects, within which you can contemplate the design and construction of new works or the modernization of any existing building or infrastructure. This department has made important efforts to improve the management of its projects, however, deviations were detected in the final cost and in the execution time of the projects with respect to what was planned, directly affecting the institution, the users and the image of the department. The main objective of this research work was to propose a standardized model for the management of scope, cost management and time management in the Engineering Office projects. To achieve the general objective, the following specific objectives were met: The current situation was determined according to the project management practices, creating a diagnosis of the management carried out in the projects completed during the years 2017 and 2018, in which deficiencies have been found in the areas of scope, time and cost, placing the current management at the lower limit of the high medium classification. A review of the best practices of the industry was carried out according to the needs of the management of the Technological of Costa Rica projects, obtaining a frame of reference for the comparison of the current situation. Through a comparative analysis of the needs of the Engineering Office, the gaps between the findings of the current situation and best practices were established. The tools and procedures were designed, such as a process flow diagram, templates for the constitution of the project, architectural program, registration of requirements, lessons learned, list of activities, schedule and budgets; based on the project management methodology of the PMI described in the PMBoK® Guide, based on the requirements identified for the Engineering Office. Finally, the necessary actions for the implementation of the proposed model were presented, including a schedule and a preliminary budget for its implementation in the department. This study achieves both the creation of processes and tools, as well as the implementation of a project management culture in the public workers of the Engineering Office.
El Tecnológico de Costa Rica es una institución nacional autónoma de educación superior universitaria, dedicada a la docencia, la investigación y a la extensión de la tecnología y las ciencias conexas para el desarrollo de Costa Rica. La Oficina de Ingeniería es la unidad que forma parte del Tecnológico de Costa Rica y está encargada del desarrollo del espacio físico de la institución, para lo cual maneja un plan maestro de cada una de las sedes y en función de las necesidades de la institución, realiza la planeación y desarrollo de proyectos de construcción, dentro de los que se pueden contemplar el diseño y construcción de obras nuevas o la modernización de alguna edificación o infraestructura existente. Este departamento ha realizado importantes esfuerzos para mejorar la gestión de sus proyectos, no obstante, se detectaron desviaciones en el costo final y en el tiempo de ejecución de los proyectos con respecto a lo planeado, afectando directamente a la institución, a los usuarios y a la imagen del departamento. El presente trabajo de investigación tuvo como objetivo general el proponer un modelo para la gestión del alcance, gestión del costo y gestión del tiempo en los proyectos de la Oficina de Ingeniería. Para alcanzar el objetivo general se cumplieron los siguientes objetivos específicos: Se determinó la situación actual en función de las prácticas de gestión de proyectos, creando un diagnóstico de la gestión realizada en los proyectos culminados durante los años 2017 y 2018, en el cual se encontraron deficiencias en las áreas del alcance, tiempo y costo ubicando la gestión actual en el límite inferior de clasificación medio alto. Se efectuó una revisión de las buenas prácticas de la industria en función de las necesidades de gestión de los proyectos del Tecnológico de Costa Rica, obteniendo un marco de referencia para la comparación de la situación actual. Por medio de un análisis comparativo de las xviii necesidades de la Oficina de Ingeniería, se establecieron las brechas existentes entre los hallazgos de la situación actual y las buenas prácticas. Se diseñaron las herramientas y procedimientos como son diagrama de flujo de procesos, plantillas para el acta de constitución del proyecto, programa arquitectónico, registro de requerimientos, lecciones aprendidas, lista de actividades, cronograma y presupuestos; basados en el estándar de gestión de proyectos del PMI descrita en la Guía del PMBoK®, en función de los requisitos identificados para la Oficina de Ingeniería. Por último, se presentaron las acciones necesarias para la implementación del modelo propuesto, incluyendo un cronograma y un presupuesto preliminar de su puesta en marcha en el departamento. Con este estudio se logra tanto la creación de procesos y herramientas, como también la implementación de una cultura de gestión de proyectos en los funcionarios de la Oficina de Ingeniería del Tecnológico de Costa Rica.
Description
Proyecto Final de Graduación (Maestría en Gerencia de Proyectos con énfasis en Construcción) Instituto Tecnológico de Costa Rica, Área Académica de Gerencia de Proyectos, 2019.
Collections