Propuesta de aprendizaje en línea para estudiantes de undécimo año de los Colegios Técnicos Profesionales de la Región Huetar Norte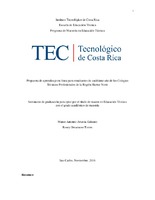 Date
2016
Author
Oreamuno-Torres, Rosey
Artavia-Galeano, Marco Antonio
Abstract
This research project is aimed to design an online didactic resource using a Moodle platform contextualized to a young group of students to reinforce the Business Management Unit contents, which students from eleventh grader and teachers from Technical High Schools have agreed that are some of the most complicated topics to study. Data will is collected through questionnaires applied to learners and teachers to find out the most relevant aspects, such as: the Business Management Unit contents which students have been presented difficulties to understand and apply, also the didactic resources teacher use the most when working with these topics, how relaxed students are when working with Information and Communication Technologies, their daily lives and learning process. Recommendations from an experienced e-Learning processes group of teachers have been taken into account, their insights and knowledge have been used in order to create learning objects to motivate students and promote a more meaningful process outside the classroom.
Esta investigación tiene como objetivo general diseñar un recurso didáctico en línea a través de la plataforma Moodle contextualizada a la población joven, para reforzar los contenidos de la Unidad de Gestión Empresarial, que según los estudiantes de undécimo año y docentes de Colegios Técnicos Profesionales de la Región Huetar Norte de Costa Rica presentan mayores dificultades. A través de cuestionarios se recolecta información, tanto a discentes como a docentes para indagar aspectos relevantes, tales como: los contenidos de la Unidad de Gestión Empresarial con mayores dificultades de asimilación, aspectos sobre los recursos didácticos que utilizan con mayor frecuencia los docentes, grado de relación de los sujetos en estudio con las Tecnologías de la Información y la Comunicación, en su vida cotidiana y en procesos de aprendizaje. También se toman en cuenta las recomendaciones de un grupo de docentes que han acumulado experiencia en procesos e-Learning, valorando sus aportes para crear objetos de aprendizaje que llamen la atención de los adolescentes y que estimulen un aprendizaje más significativo fuera de las aulas.
Description
Seminario de Graduación (Maestría en Educación Técnica) Instituto Tecnológico de Costa Rica, Escuela de Educación Técnica, 2016.
Collections