Competencias demandadas por los centros de servicio compartido de los de los colegios técnicos profesionales en la especialidad de contabilidad y finanzas en contraste con las que se contemplan en el plan de estudio del Ministerio de Educación Pública.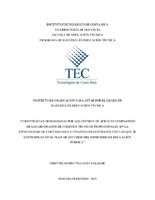 Date
2015
Author
Villalta-Salazar, Grettel María
Abstract
A productive society requires changes that are protected from the very heart of education and new ideas to cope with the speed with which information technology and communication is developed, in order to transform and change the way you train individuals in such a way that they provide the necessary elements to live in a competitive society . That is why young people, wherever they live, whatever their gender, and wherever they come from need to acquire skills that will prepare them to work worthily so that can emerge as good people, and above all participants in the society in which they live. That is why the study entitled " Agreement within Competencies that Shared Service Centers of Professional Technical High Schools Demand from their Graduates Specializing in Accounting and Finance and the ones Included in their Curricula " aims evaluating the existing correlation within the needs of employers and the set curricula; therefore, contributing to updating knowledge on the competencies to be developed by graduates of Technical Education in trade and services, specializing in Accounting and Finance. This research has a qualitative nature through a phenomenological approach. Among the main conclusions reached by this study, there is no correlation among the competencies demanded by Shared Service Centers and the curricula set by the Ministry of Public Education. Consequently, this research poses a possible solution to allow graduates meet the expectations set by employers, so that an update of the curricula for accounting and Finance specialties incorporate the following competencies: Responsibility, Learning Ability and Leadership.
La sociedad productiva exige cambios que estén amparados en el seno mismo de la educación y de nuevas ideas para hacerle frente a la celeridad con la que se desarrolla la tecnología de la información y comunicación, con el objetivo de transformar y cambiar la manera de formar individuos, de forma tal, que se les proporcionen los elementos necesarios para vivir en una sociedad competitiva. Es por ello que los jóvenes, donde quiera que vivan, sin importar su género, necesitan adquirir competencias, que los preparen para emplearse de forma digna, a fin de que puedan ser personas de bien, y sobre todo, ser participantes activos y críticos de la sociedad en la que viven. Es por ello, que se plantea el estudio titulado "Competencias demandadas por los Centros de Servicio Compartido de los graduados de Colegios Técnicos Profesionales en la especialidad Contabilidad y Finanzas, en contraste con las que se contemplan en el plan de estudios del Ministerio de Educación pública" el cual pretende determinar la relación existente entre las necesidades de los empresarios y las dispuestas en el plan de estudios, para así lograr contribuir con la actualización del conocimiento sobre las competencias que debe desarrollar el graduado de Educación Técnica del área comercio y servicios, especialidad Contabilidad y Finanzas. Esta investigación es de carácter cualitativa, mediante un enfoque de tipo fenomenológico. Dentro de las principales conclusiones a las que se logró llegar en este estudio es que no existe concordancia alguna entre las competencias que demandan los Centros de Servicio Compartido y las que se plantean en el plan de estudios del Ministerio de Educación Pública. Esto con el fin de plantear soluciones que permitan a los graduados llenar las expectativas que los empleadores requieren, además se propone una actualización del plan de estudios de la especialidad de Contabilidad y Finanzas, de manera que se incorporen las siguientes competencias: Responsabilidad, Capacidad de aprendizaje, Liderazgo.
Description
Proyecto de Graduación (Maestría en Educación Técnica) Instituto Tecnológico de Costa Rica, Escuela de Educación Técnica, 2015
Collections