Diagnóstico de clima organizacional de la sección técnica nocturna del Colegio Técnico profesional de Cartagena, Circuito 03 de la de la Dirección Regional de Educación de Santa Cruz.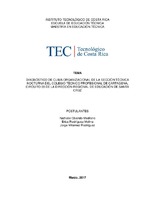 Date
2017
Author
Obando-Medrano, Nathalie
Rodríguez-Molina, Erica
Villareal-Rodríguez, Jorge
Abstract
The following is an analysis of the relationship between the organizational climate on work performance and the motivation of the night staff of the Cartagena CTP located in Santa Cruz, Guanacaste province. Understanding the importance of organizational climate within institutions and organizations can understand the fundamental internal dynamics of relationships within companies. The appreciation of the climate is determinant for the work satisfaction, the performance and the productivity. A positive climate encourages a greater motivation and therefore a better performance by the officials, in turn; If appropriate, will lead to an increase in commitment and loyalty to the Institution. The implementation of a Tecno Didactic Proposal therefore aims to facilitate the communication, motivation and training processes regarding the organizational climate of the officials of the Night Section of the CTP of Cartagena, seeking in this way the improvement of the climate within the institution of work Resulting in an excellent level of work performance that will contribute to the development of students, teachers, administrators, coordinators, director and in general the town of Cartagena.
A continuación, se presenta un análisis sobre los factores que inciden en el clima organizacional, en los funcionarios de la sección nocturna del Colegio Técnico Profesional de Cartagena localizado en Santa Cruz, Provincia de Guanacaste. Al comprender la importancia del clima organizacional dentro de las instituciones y organizaciones se puede entender la dinámica fundamental interna de las relaciones dentro de las empresas. La apreciación del clima resulta determinante para la satisfacción laboral, el desempeño y la productividad. Un clima positivo propicia una mayor motivación y por tanto un mejor desempeño por parte de los funcionarios, a su vez; si es adecuado provocará un aumento en el compromiso y la lealtad hacia la Institución. La implementación de una Propuesta Tecno Didáctica pretende por lo tanto facilitar los procesos de comunicación, motivación y capacitación en cuanto a clima organizacional de los funcionarios de la Sección Nocturna del Colegio Técnico Profesional de Cartagena buscando de esta manera el mejoramiento del clima que la institución contaba anteriormente, dando como resultado un excelente nivel de desempeño laboral que contribuirá al desarrollo de los estudiantes, docentes, administrativos, coordinadores, director y en general el pueblo de Cartagena.
Description
Proyecto de Graduación (Maestría en Educación Técnica) Instituto Tecnológico de Costa Rica, Escuela de Educación Técnica, 2017
Collections