Estudio del plan de sesión en la ejecución de los servicios de capacitación y formación profesional y su relación con la evaluación técnico-metodológica de la persona docente del núcleo de turismo del Instituto Nacional de Aprendizaje.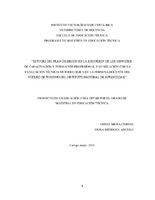 Date
2016
Author
Mora-Cerdas, Geisel
Mendoza-Angulo, Ericka
Abstract
The daily classroom management plan is inevitable for teachers and the Technical and Methodological Evaluation is based on more than 50% of the items. Knowing the perception of teachers of tourism on the development and implementation of the daily classroom management plan and its relationship with the evaluation, are two of the purposes of this investigation. A documentary analysis of the session plan form and Technical and Methodological Evaluation was made; randomly selected a sample of 20 teachers who had been evaluated on 2014 and was applied a semi-structured interview. The results indicate that 45% of teachers do not choose the daily classroom management plan and 55% said that it is a tool of little importance, and 65% said that it does not allow them to be creative. The teachers are not satisfied with the dependence between the two forms, despite 75% obtained over 80% final grades. The 75% perceived negatively the evaluation: harassment (30%), stressed (25%) and nervous (20%) they feel that it does not contribute to determine its strengths and weaknesses. Recommendations for a proposal are presented and they reflects the feeling of teachers, we expect that the people of the institution (INA) analyze and take into account the perceptions that are presented.
La elaboración del Plan de Sesión es una tarea cotidiana para los docentes del INA y la Evaluación Técnico- Metodológica se basa en más del 50% de los ítems de dicho plan. Conocer la percepción de los docentes de Turismo sobre la elaboración y ejecución diaria del Plan de Sesión y sobre la relación de éste con la Evaluación, fueron dos de los propósitos de esta investigación. Se realizó un análisis documental de los formularios del Plan de Sesión y de la Evaluación Técnico- Metodológica; se seleccionó al azar una muestra de 20 docentes, que tuvieran la evaluación del año 2014 y se les aplicó una entrevista semiestructurada. Los resultados indican que el 45% de los docentes elegirían no hacer el plan de sesión y un 55% que es una herramienta de poca importancia. El 65% señala que no les permite ser creativos. Los instructores no están satisfechos con la dependencia entre ambos formularios, pese que el 75% obtuvo notas superiores al 80%. El 75% percibe la evaluación negativamente: acosado (30%), estresado (25%) y nervioso (20%), siente que no contribuye a determinar sus fortalezas y debilidades. Se presentan recomendaciones para una propuesta que recoge el sentimiento de los docentes y se espera que el INA la estudie y tome en cuenta sus percepciones.
Description
Proyecto de Graduación (Maestría en Educación Técnica) Instituto Tecnológico de Costa Rica, Escuela de Educación Técnica, 2016
Collections