Estudio sobre aspectos sociales, educativos y económicos relevantes ante un posible cambio de la modalidad académica a técnica del Liceo Carrillos de Poás de Alajuela.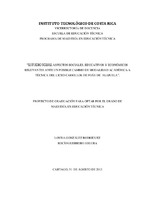 Date
2015
Author
González-Rodríguez, Loyda
Guerrero-Segura, Rocío
Abstract
The purpose of this research was to investigate the perception of some community groups of Poás canton, and one of its districts, Carrillo community. Also to examine the perception of some organized groups of Carrillo community, about the possible transformation of the Academic Poás High School into a Professional Technical High School; taking into account the reference social aspects (crime and social equity), educational aspects (dropout and educational migration), and economic aspects (employability and entrepreneurship) related to this area and this high school. It is to contribute to the educational authorities who are responsible for making decisions about changing the modality of this school with relevant and reliable information. This is because apparently, in our country, changes in academic modality to technical modality have been done with no research that gives scientific basis to support this decision. This study corresponds to a phenomenological qualitative research. To collect the information for this investigation, two groups are conducted: one member of the Administrative High School Board and another from the Association of Development Board for this population. Besides, semi-structured interviews were conducted with some local businesspersons. The information was analyzed comparative reflexively, using single frequency, taking reference to the categories of analysis established. Information verification was performed by triangulation strategy. The results show a consistency in the criteria. All three groups agree with switching the Academic High School Liceo Carrillos de Poás to a Technical High School. This possible mode change is perceived as a hope to solve some bad behaviors that affect this community and keep it behind, according to informants, this change will bring to young people opportunities they did not have; and give them the opportunity to acquire the skills necessary to start working at a young age and with recognized guarantees, because once you graduate from high school, many young people would have the opportunity to attend college. Thus, one of the main conclusions is that any changeover of modality requires a study to support it and in that decision-making, it is essential to take into account the points of view of people in this location. Among the main recommendations, it is suggested that the results obtained from this research are taking into account for a possible decision-taken. Moreover, it is important to investigate other aspects curricular, cultural and political.
Esta investigación tuvo como propósito indagar sobre las principales características del cantón de Poás y uno de sus distritos, la comunidad de Carrillos. Asimismo, determinar la percepción de algunos grupos organizados de la comunidad de Carrillos de Poás, sobre la posible transformación del Liceo Carrillos de Poás a Colegio Técnico Profesional, tomando como referentes los aspectos sociales (delincuencia y equidad social), educativos (deserción escolar y migración educativa) y económicos (empleabilidad y emprendimiento) propios de esa comunidad y de esta institución, para aportar a las autoridades educativas que tendrán a su cargo esta decisión sobre el cambio de modalidad , información confiable y relevante, pues aparentemente, en nuestro país, los cambios de programas académicos a técnicos se han dado sin estudios formales o investigaciones previas que den fundamento científico a estas modificaciones curriculares. Este estudio corresponde a una investigación cualitativa fenomenológica. Para la recopilación de la información se realizaron dos grupos focales: uno con los miembros de la Junta Administrativa del Liceo Carrillos de Poás y el otro con los miembros de las Asociaciones de Desarrollo de esta localidad. Además se realizaron entrevistas individuales semiestructuradas a algunos empresarios de la zona. La información se analizó de forma reflexiva comparativa de frecuencia simple, tomando como referencia las categorías de análisis establecidas. Se realizó una verificación de información mediante la estrategia de triangulación. Los resultados muestran congruencia en los criterios de los tres grupos de informantes al valorar de manera positiva la transformación del Liceo Carrillos de Poás a Colegio Técnico Profesional. Este posible cambio es percibido como una esperanza para resolver algunos de los males que afectan a esta comunidad y que la mantienen rezagada pues, según los informantes, viii brindaría a los jóvenes oportunidades que ellos no tuvieron; y les daría la posibilidad de adquirir las herramientas necesarias para poder empezar a trabajar a una corta edad y con garantías reconocidas, principalmente porque una vez que terminen la educación secundaria, muchos de los jóvenes no tienen la posibilidad de asistir a una universidad. De esta forma, una de las principales conclusiones que surge es que cualquier proceso de transformación de modalidad requiere de un estudio que lo avale; y que en esa toma de decisiones, es fundamental que se tome en cuenta la opinión de las personas de la comunidad. Entre las principales recomendaciones que se ofrecen, se sugiere que los resultados obtenidos en esta investigación se tomen como base para una eventual toma de decisiones; y que se amplíen los grupos de entrevistados. Además, es importante indagar otros aspectos, como los aspectos curriculares, culturales y políticos.
Description
Proyecto de Graduación (Maestría en Educación Técnica) Instituto Tecnológico de Costa Rica, Escuela de Educación Técnica, 2015
Collections