Desarrollo de una herramienta de planificación del tiempo y aseguramiento de la calidad para la construcción de un edificio habitacional, en la Empresa Constructora Edificar S.A.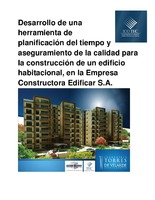 Date
2014
Author
Zamora-Fedullo, Marco
Abstract
This practice was developed in Torres de Flared, which consists of a residential building nine levels, each consisting of four apartments. The scope of the construction company contemplates gray work, electromechanical, metal finishing facilities and skies. This project will provide a solution to the problem of time and execution by the development of this work, which has an extensive workload within range, however budget within a very short period of time, which gives us the task of developing a tool to fulfill all activities at the deadline and hand with practices of high quality standards. Within the content is two main stages, the first sample much of the logistics of the project, in planning the execution time and site design. The second stage is shaped the development of tools based on external and internal company Build, allowing assess compliance with quality standards regulations. The development of these tools is to fill a need within the project Torres de Velarde, where for the first stage the critical or key implementation activities were determined and together with logistics site developed an initial strategic planning runtime, which led to weekly work programs that enable compliance with the milestones. Added to this assessment contemplate these weekly activities and these results has managed to define needs and strengths of the project, promoting the ideology of continuous improvement. Following that, in the second stage was wont to strengthen another important parameter in implementing the project, which is developing practices with high quality standards. For this major regulations governing the assessment of quality in projects of this size were investigated. With this information tools that facilitate the assessment of quality in major construction processes were created. Product of the analysis of this information, some recommendations that the Construction Build can be used to improve the remaining processes of the final stage of the project were made. Keywords: Lean Philosophy, Last Planner, Planning time, quality assurance, site design, manufacturing strategy, strategic planning, intermediate Planning, weekly planning, Causes of non-compliance, quality control, finishing of concrete.
Description
Proyecto de Graduación (Licenciatura en Ingeniería en Construcción). Instituto Tecnológico de Costa Rica. Escuela de Ingeniería en Construcción, 2014.
Collections