Diseño de una Metodología para Mejorar la Administración de Materiales, Equipos y Organización de la Obra en los Proyectos de la Constructora Totem S.A.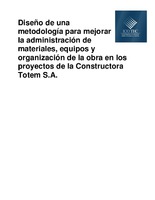 Date
2014
Author
Montero-Solano, Natalia
Abstract
The following report presents a proposal to improve the use and management of resources for the Constructora Totem projects. A project called Acudent was selected for the task of remodeling cellars which are to be used in the construction of a dental laboratory. The information collected in this project has helped to identify the factors which cause skids with materials equipment, and labor. In order to accomplish this, the current business conditions were assessed using surveys, diagrams and photographic records. Furthermore, productivity and performance evaluations were taken of the following activites: painting and cutting metal structure for mezzanine, arming light walls and installing suspended ceilings. Those activities were selected according to the company's interest. As a result of this study, the importance of proper planning prior to the start of a project, as well as proper follow up during the implementation phase was found. Finally, this report contains several recommendations that aim to standardize the management of resources for future projects.
Description
Proyecto de Graduación (Licenciatura en Ingeniería en Construcción). Instituto Tecnológico de Costa Rica. Escuela de Ingeniería en Construcción, 2014.
Collections