Incorporación de conceptos de la metodología Lean en la fabricación y montaje de estructuras metálicas.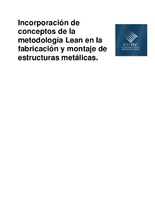 Date
2015
Author
Cordero-Rosales, Daniela
Abstract
This graduation project consists of the application of the LEAN philosophy in the manufacturing and assembly of the steel structure projects. According to Hernandez, JC & Vizan, this philosophy applies to staff l, defines how to improve and optimize a production system with a focus on identifying and eliminating all forms of waste. The definition of LEAN is clear to be identified as a focus for the managementproduction delivery of a specific project, reducing lead times, improving quality and thus ensuring expected profits in the company budget. In order to implement in the best way the Lean philosophy, it made use of tools such as flow charts, Pareto analysis or 80-20, cause-effect diagrams and Balance Card. The objectives of this research were to determine the causes of quality issues and delivery of steel structure projects, identify processes in manufacturing and construction of steel structure projects, analyze the tools available to control threads identify threads of greater relevance, evaluate the productivity of human resources in the main thread and propose improvements to them. As part of the improvements templates for controlling threads, similarly a flowchart of threads both in the factory and on site, and a workshop area distribution with respect to the defined process flow. The development of the company providing document tools and foundations for the implementation of projects by controlling the quality and time, eliminating waste.
Description
Proyecto de Graduación (Licenciatura en Ingeniería en Seguridad Laboral e Higiene Ambiental) Instituto Tecnológico de Costa Rica, Escuela de Ingeniería en Construcción, 2015.
Collections