Estudio y conservación de la diversidad genética del maíz criollo en dos regiones de Costa Rica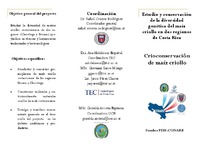 Date
2001
Author
CONARE-Biotecnología para todos
Educational Resource
Abstract
Estudio de la diversidad de maíz criollo en dos regiones costarricenses, basado en técnicas tradicionales y biotecnología
Study of the diversity of native maize in two Costa Rican regions, based on traditional techniques and biotechnology
Resource type
Photograph, Illustration, Narrative text.
Intended users
Learner, Subject matter expert, Teacher.
Educational level
Level:: Technical Education, Level::III Cycle, Level::Diversified Education, Level::High School Diploma, Level::University.
Subject
Subject::Science::Biology, Subject::Science::Chemistry.
Keyword
Crioconservación, Germinación, Conservación, Germoplasma.
Structure
Networked
This structure corresponds to sets of objects with undefined relations among them.
Aggregation Level
1
The lowest level of aggregation. For example, multimedia or fragments.
Interactivity Type
Expositive
Context
Classroom, Laboratory, Real environment, Teacher.
Cognitive Process
Analyse, Implement, Describe, Explain, Represent.
Show more info
The following license files are associated with this item: