El poder de las microalgas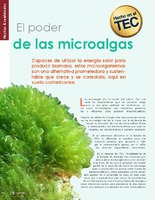 Installation remarks
Descargar el PDF y abrir con cualquier programa en cualquier sistema operativo. También se puede acceder al artículo en la web. Browser: Cualquiera. Browser plugin: Adobe Flash Player.
Date
2015
Author
Oficina de Comunicación y Mercadeo, Instituto Tecnológico de Costa Rica
Publisher
Garita-Granados, Carla, Quesada-Araya, Jorge, Garro-Ureña, Rony.
Editor
Mesén-Cepeda, Ma. Martha
Graphical designer
Chacón-Quesada, Kristel, Robles-Cruz, Tracy.
Technical implementer
Sequeira-Oreamuno, Daniel, Rosales-Purizaca, Carlos A., Herranz-Berzosa, Carmen.
Technical validator
Garro-Sánchez, Daniel
Educational Resource
Abstract
El articulo describe que son las microalgas, las capacidades que poseen y como pueden contribuir a la reducción del uso de combustibles fósiles y sustituirla con la producción de biocombustibles para contribuir a la reducción de los efectos del cambio climático.
The article describes microalgae, the capacities they possess and how they can contribute to the reduction of the use of fossil fuels and substitution with the production of biofuels to contribute to the reduction of the effects of climate change.
Source
Pensis. I Edición (enero / marzo, 2015)
Resource type
Narrative text, Hypertext.
Intended users
General public
Educational level
Level::Diversified Education, Level:: Technical Education, Level::High School Diploma, Level::University.
Keyword
Microalgal, Biodigestor, Biocombustibles, Monitoreo, CO2.
Structure
Atomic
This structure corresponds to individual objects. For example, images, charts and figures.
Aggregation Level
2
Level 2 is a collection of level 1 objects (multimedia or fragments). For example a lesson.
Interactivity Type
Expositive
Cognitive Process
Analyse, Understand, Communicate, Contextualize, Describe, Explain, Innovate.
Show more info
The following license files are associated with this item: