Singapur, la ciudad del futuro hoy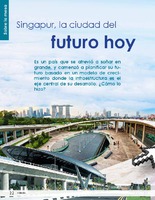 Installation remarks
Descargar el PDF y abrir con cualquier programa en cualquier sistema operativo. También se puede acceder al artículo en la web. Browser: Cualquiera. Browser plugin: Adobe Flash Player.
Date
2015
Author
Oficina de Comunicación y Mercadeo, Instituto Tecnológico de Costa Rica
Educational Resource
Abstract
Este artículo describe la situación actual que vive Singapur, un país asiático que basó su desarrollo en inversiones en infraestructura y hoy por hoy es considerado un país futurista y ejemplo para muchas otras naciones.
This article describes the current situation in Singapore, an Asian country that based its development on investments in infrastructure and today is considered a futuristic country
Source
Pensis. I Edición (enero / marzo, 2015)
Resource type
Narrative text, Hypertext.
Intended users
General public
Educational level
Level::III Cycle, Level::Diversified Education, Level:: Technical Education, Level::High School Diploma, Level::University.
Keyword
Nodo financiero, Competitivo, Sostenbilidad, Gobernanza, Tecnología.
Structure
Atomic
This structure corresponds to individual objects. For example, images, charts and figures.
Aggregation Level
2
Level 2 is a collection of level 1 objects (multimedia or fragments). For example a lesson.
Interactivity Type
Expositive
Cognitive Process
Share, Understand, Communicate, Describe, Explain.
Show more info
The following license files are associated with this item: