Un panorama impostergable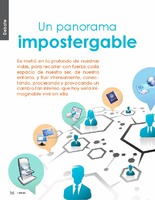 Date
2016
Author
Oficina de Comunicación y Mercadeo, Tecnológico de Costa Rica
Educational Resource
Abstract
Existe una brecha importante que impide a muchas personas tener acceso a internet. Costa Rica no desea quedarse ahí, rezagada por falta de la incorporación de este medio. El internet se ha convertido en la herramienta en la que los gobiernos han empezado a sumergirse como medio para comunicarse de manera más transparente y directa con el ciudadano. La competitividad del país se ve beneficiada con la incorporación de la iniciativa de "gobierno digital".
There is a major gap that prevents many people from having access to the internet. Costa Rica does not want to stay there, lagging behind the lack of incorporation of this medium. The internet has become the tool in which governments have begun to immerse themselves as a means to communicate in a more transparent and direct way with the citizen. The country's competitiveness is benefited by the incorporation of the "digital government" initiative.
Source
Pensis. V Edición (enero/marzo), 2016
Resource type
Narrative text
Intended users
General public
Educational level
, Level::High School Diploma.
Keyword
Transformación, Innovación, Sociedad del conocimiento, Servicois, Plataformas.
Structure
Collection
This structure corresponds to sets of objects without a relation among them.
Aggregation Level
2
Level 2 is a collection of level 1 objects (multimedia or fragments). For example a lesson.
Interactivity Type
Expositive
Context
Real environment, Home, Teacher, Family.
Cognitive Process
Analyse, Understand, Describe, Consider.
Is part of
PENSIS V Edición
Show more info
Collections