Sobre la experiencia de República Dominicana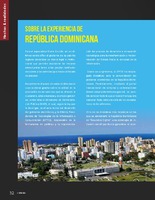 Date
2016
Author
Oficina de Comunicación y Mercadeo, Tecnológico de Costa Rica
Educational Resource
Abstract
En República Dominicana se ha ido consolidando un marco legal que permite incluir mejoras estructurales a las instituciones y a los servicios que el estado provee. Este país también ha incorporado la iniciativa de "República Digital", la cual busca garantizar el acceso universal al internet de banda ancha.
In the Dominican Republic, a legal framework has been consolidated that allows structural improvements to the institutions and services provided by the state. This country has also incorporated the "Digital Republic" initiative, which seeks to guarantee universal access to broadband internet
Source
Pensis. V Edición (enero/marzo), 2016
Resource type
Narrative text
Intended users
General public
Educational level
, Level::III Cycle.
Keyword
Gobiernos, Intituciones, Innovación tecnológico, Tecnología digital, Calidad de servicios.
Structure
Collection
This structure corresponds to sets of objects without a relation among them.
Aggregation Level
2
Level 2 is a collection of level 1 objects (multimedia or fragments). For example a lesson.
Interactivity Type
Expositive
Context
Real environment, Home, Teacher, Family.
Cognitive Process
Analyse, Understand, Describe, Consider.
Is part of
PENSIS V Edición
Show more info
Collections