La nueva era digital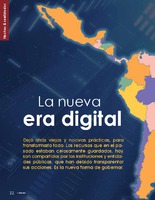 Date
2016
Author
Oficina de Comunicación y Mercadeo, Tecnológico de Costa Rica
Educational Resource
Abstract
Las tecnologías digitales junto con el internet generaron un cambio radical, llevando a los gobiernos a incorporarlas en la gestión pública. La digitalización ha permitido reducir costos y el tiempo para la realización de procesos, por lo que es recomendable pensar en la institucionalidad pública como una plataforma dinámica. Es importante considerar que en América Latina la difusión de internet no se da de manera homogénea.
Digital technologies together with the internet generated a radical change, leading governments to incorporate them into public management. The digitalization has allowed to reduce costs and the time for the realization of processes, reason why it is advisable to think of the public institutionality like a dynamic platform. It is important to consider that in Latin America the internet diffusion does not occur in a homogeneous way.
Source
Pensis. V Edición (enero/marzo), 2016
Resource type
Narrative text
Intended users
General public
Educational level
, Level::High School Diploma, Level::III Cycle.
Keyword
tecnologías, tecnologías digitales, internet, economía, sociedad, modernización, gobiernos
Structure
Collection
This structure corresponds to sets of objects without a relation among them.
Aggregation Level
2
Level 2 is a collection of level 1 objects (multimedia or fragments). For example a lesson.
Interactivity Type
Expositive
Context
Real environment, Home, Teacher, Family.
Cognitive Process
Analyse, Understand, Describe, Consider.
Is part of
PENSIS V Edición
Show more info
Collections