Internet: la punta de lanza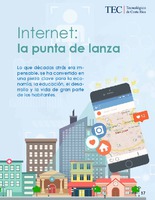 Date
2016
Author
Oficina de Comunicación y Mercadeo, Tecnológico de Costa Rica
Educational Resource
Abstract
Las telecomunicaciones permiten mucha competitividad, dando paso a usuarios exigentes con respecto a la conexión del internet (velocidad, recepción, y envío de datos), haciendo que los proveedores de internet busquen nuevas y/o mejores tecnologías por ofrecer . Tanto el internet móvil como la conexión fija son importantes en nuestro país. Las empresas deben considerar ofrecer servicios en internet, ya que éste se ha vuelto en parte importante de la economía del país.
Telecommunications allow a lot of competition, giving way to demanding users regarding the internet connection (speed, reception, and sending data), causing internet providers to look for new and / or better technologies to offer. Both the mobile internet and the fixed connection are important in our country. Companies should consider offering services on the Internet, as it has become a significant part of the country's economy
Source
Pensis. V Edición (enero/marzo), 2016
Resource type
Narrative text
Intended users
General public
Keyword
Envío de datos, Conexión, Plataformas, Tecnologías de información, Banda ancha.
Structure
Collection
This structure corresponds to sets of objects without a relation among them.
Aggregation Level
2
Level 2 is a collection of level 1 objects (multimedia or fragments). For example a lesson.
Interactivity Type
Expositive
Context
Real environment, Home, Teacher, Family.
Cognitive Process
Analyse, Understand, Describe, Consider.
Is part of
PENSIS V Edición
Show more info
Collections