Un cambio esperanzador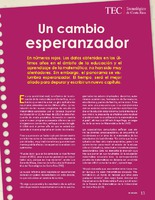 Date
2015
Author
Oficina de Mercadeo y Comunicación
Educational Resource
Abstract
Una nueva reforma de la educación de la matemática en Costa Rica, es un hecho que vendría a dar un giro radical a los resultados obtenidos en los últimos años. La instalación de los nuevos programas de estudio de matemática aprobados por el Consejo Superior de Educación se está efectuando de modo paulatino, tomando en cuenta que el nuevo programa presenta diferencias con el vigente en contenidos, enfoque y metodología. El 2016 será el primer año en que se estará ejecutando el nuevo programa en todos los niveles.
A new reform of the education of mathematics in Costa Rica is a fact that would give a radical change to the results obtained in recent years. The installation of the new mathematics study programs approved by the Higher Council of Education is taking place gradually, taking into account that the new program presents differences with the current one in contents, approach and methodology. 2016 will be the first year the new program will be running at all levels.
Source
Pensis. III Edición (julio/setiembre, 2015)
Resource type
Photograph, Narrative text.
Intended users
General public
Educational level
Level::University, , .
Keyword
Educación, Matemáticas, Métodos de estudio.
Structure
Collection
This structure corresponds to sets of objects without a relation among them.
Aggregation Level
1
The lowest level of aggregation. For example, multimedia or fragments.
Interactivity Type
Expositive
Cognitive Process
Describe
Show more info
The following license files are associated with this item: