El caso finlandés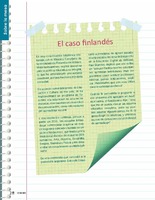 Date
2015
Author
Oficina de Mercadeo y Comunicación
Educational Resource
Abstract
El artículo menciona acerca de la política educativa del país de Finlandia. Se dice que es de manera integral debido a que involucra a toda la sociedad. Ha implementado un programa de fomento a la educación a escuelas y medios de educación para reforzar el aprendizaje escolar.
The article mentions about the education policy of Finland. It is said to be integral because it involves the whole society. It has implemented a program to promote education in schools and educational facilities to reinforce school learning.
Source
Pensis. III Edición (julio/setiembre, 2015)
Intended users
Learner, Tutor, General public, Education expert, Individual, Subject matter expert, Teacher.
Educational level
Level::University
Subject
Subject::Mathematics::Arithmetic
Keyword
Política educativa, Sociedad, Aprendizaje, Escuelas, Programas de estudio, Sistema educativo.
Structure
Networked
This structure corresponds to sets of objects with undefined relations among them.
Aggregation Level
1
The lowest level of aggregation. For example, multimedia or fragments.
Interactivity Type
Expositive
Context
Classroom, Teacher, Tutor.
Cognitive Process
Contextualize, Define.
Show more info
The following license files are associated with this item: