De los obstáculos... a oportunidades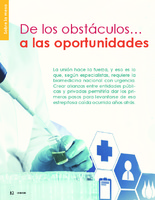 Installation remarks
Descargar el PDF y abrir con cualquier programa en cualquier sistema operativo. También se puede acceder al artículo en la web. Browser: Cualquiera. Browser plugin: Adobe Flash Player.
Date
2017
Author
Oficina de Comunicación y Mercadeo, Instituto Tecnológico de Costa Rica
Educational Resource
Abstract
Este artículo habla sobre las medidas que como país se deben tomar en cuestiones de biomedicina entre entes públicos y privados para recupara el terreno perdido años atrás en Costa Rica.
This article talks about the measures that should be taken as a country in biomedicine matters between public and private entities to recover the land lost years ago in Costa Rica.
Source
Pensis. VI Edición (enero/marzo, 2017)
Resource type
Narrative text, Hypertext.
Intended users
General public
Educational level
Level:: Technical Education, Level::Diversified Education, Level::High School Diploma, Level::University.
Keyword
Ciencia, Medicina, Investigación, Educación, Infraestructura.
Structure
Atomic
This structure corresponds to individual objects. For example, images, charts and figures.
Aggregation Level
2
Level 2 is a collection of level 1 objects (multimedia or fragments). For example a lesson.
Interactivity Type
Expositive
Cognitive Process
Analyse, Communicate, Contextualize, Describe, Explain.
Show more info