Propuesta para el diseño de una oficina de administración de proyectos (PMO) en el nivel superior del Ministerio de Obras Públicas y Transportes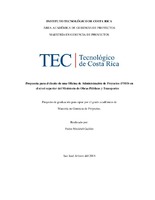 Date
2018
Author
Meckbel-Guillén, Pedro
Abstract
The present work was developed with the aim of designing an Project Management Office at the top level of the Ministerio de Obras Públicas y Transportes (MOPT). For this purpose, a research methodology was applied, descriptive and transverse or cross-sectional, applying a series of techniques such as questionnaire, documentary review and expert criteria of officials who are related to strategic projects and who actively participate in strategic projects as are the Minister, Deputy Ministers, Managers of Executing Units, Director of Institutional Planning, Director of the Secretary of Sectorial Planning and Advisors of these areas. Initially, a diagnosis was made of the current situation regarding the administration of its projects, allowing it to visualize the good practices of project management, policies, guidelines and standardized methodologies present in the institution. Subsequently, according to the results of benchmarking in public institutions in Costa Rica, the experiences of these institutions for the creation of the project management figure in the ministry are taken as a reference. Based on the analysis carried out, the PMBOK® Guide for the development of the proposal was taken as a reference, making it easier to determine the project management, position and function figure, as well as to identify the roles and responsibilities of its members. Finally, it includes a strategy for the implementation of a project management process, which establishes the phases of review of the proposal, planning, implementation and closure with their respective activities, time, cost and responsible for the development of the process.
El presente trabajo se desarrolló con el objetivo de diseñar una Oficina de Administración de Proyectos en el nivel superior del Ministerio de Obras Públicas y Transportes. Para ello, se utilizó una metodología de investigación de tipo aplicada, descriptiva y transversal o transeccional, aplicando una serie de técnicas como el cuestionario, revisión documental y criterio experto de funcionarios que están relacionados con los proyectos estratégicos y que participan activamente en los proyectos estratégicos como son el Ministro, Viceministros, Gerentes de Unidades Ejecutoras, Director de Planificación Institucional, Director de la Secretaria de Planificación Sectorial y Asesores de estas áreas. Inicialmente, se realiza un diagnóstico de la situación actual en cuanto a la administración de sus proyectos, permitiendo este visualizar las buenas prácticas de administración de proyectos, políticas, lineamientos y metodologías estandarizadas presentes en la institución. Posteriormente, de acuerdo con los resultados de la aplicación del benchmarking en instituciones públicas de Costa Rica, se toman como referencia las experiencias de estas instituciones para la creación de la oficina de administración de proyectos en el ministerio. Con base en el análisis realizado, se tomó como referencia la Guía del PMBOK® para el desarrollo de la propuesta, facilitando con ello la definición de la oficina de administración de proyectos, ubicación y funciones, además, identificar los roles y responsabilidades de sus integrantes. Finalmente, se incluye una estrategia para la implementación del proceso de gestión de proyectos, la cual establece las fases de revisión de la propuesta, planificación, implementación y cierre con sus respectivas actividades, tiempo, costo y responsables para la conformación del proceso.
Description
Proyecto de Graduación (Maestría en Gerencia de Proyectos) Instituto Tecnológico de Costa Rica, Área Académica de Gerencia de Proyectos, 2018.
Collections