Estrategia para la mejora en la administración de proyectos de la empresa Construcciones Peñaranda S.A. enfocado en proyectos de obra pública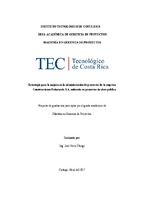 Date
2018
Abstract
The project carried out in the company Construcciones Peñaranda S.A., it was developed to establish a strategy that looks for an effective project management, achieving the standardization and optimization of processes, as well as the compliance of the objectives set in the baselines. The methodology used for the investigation was qualitative, applied, cross-sectional and descriptive since it was considered the appropriate method to approach the data analysis. Throughout the investigation, techniques such as: questionnaire, focus group, semi-structured interview and documentary analysis were applied, with the purpose of collecting valuable information that would help the diagnosis of the current situation, and the subsequent establishment of good practices. As part of the findings, it was determined that areas such as cost, time and acquisitions presented a high level of compliance regarding the good practices. On the other hand, the areas related to communication, scope, human resources, and integration had a low level of compliance. The risk and integration areas were not considered; the first one because a related project is currently being carried out within the company, and the second one, because it is not part of the projects scope that the organization focuses on. Based on the results obtained through the investigation, the tool "Methodological Guide for Project Management of Construcciones Peñaranda SA" was developed; it establishes the plans and templates considered necessary in order to improve the actual project management. The existing templates were adjusted as well as the formats. Finally, as part of the implementation plan, a training plan is suggested in order to achieve an understanding of the guide and the basic concepts of Project Management.
El presente proyecto fue desarrollado en la empresa Construcciones Peñaranda S.A., en este se planteó el establecer una estrategia que mejore la gestión de proyectos, logrando así una estandarización de los procesos y el cumplimiento de los objetivos planteados en las líneas base. El tipo de metodología de investigación utilizada fue cualitativa, aplicada, transversal y descriptiva, en esta investigación se aplicaron técnicas tales como: cuestionario, grupo focal, entrevista semiestructurada y análisis documental con el propósito de recolectar información valiosa que ayudara al diagnóstico de la situación actual y posterior establecimiento de la brecha con las buenas prácticas. Como parte de los hallazgos encontrados se determinó que las áreas de costo, tiempo y adquisiciones presentaban un nivel de cumplimiento alto con respecto a las buenas prácticas. También que las áreas de comunicación, alcance, recursos humanos e integración tenían un nivel bajo de cumplimiento. No se desarrollaron las áreas de riesgos e integración, la primera dado que actualmente dentro de la compañía se labora en un proyecto sobre la gestión de esta área y la segunda dado que no es parte del alcance de los proyectos que se ejecutan en la organización. Con base en los resultados obtenidos en el diagnóstico y en el análisis de brecha se elaboró la herramienta "Guía Metodológica para la Dirección de Proyectos de Construcciones Peñaranda S.A." misma que establece los planes y las plantillas que se consideraron necesarias para mejorar la gestión de proyectos dentro de la compañía, además dentro de ésta se adaptaron las plantillas ya existentes en la compañía. Finalmente, como parte del plan de implementación, se propone un plan de capacitación con el fin de lograr el entendimiento de la guía y de los conceptos básicos sobre Administración de Proyectos.
Description
Proyecto de Graduación (Maestría en Gerencia de Proyectos) Instituto Tecnológico de Costa Rica, Área Académica de Gerencia de Proyectos, 2018.
Collections