Modelo de Gestión de Proyectos para el Departamento de Arquitectura del Ministerio de Hacienda.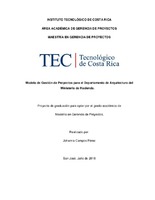 Date
2018
Author
Campos-Pérez, Johanna
Abstract
El presente proyecto final de graduación se desarrolló en el Departamento de Arquitectura del Ministerio de Hacienda, con el objetivo de ofrecer una solución estructurada para la gestión de los proyectos de infraestructura que se realizan para la institución. Se utilizó una metodología de investigación exploratoria y de tipo aplicada, debido a que su finalidad es dar una solución a un problema previamente planteado; con la aplicación de distintas técnicas, entre ellas, entrevistas no estructuradas, cuestionarios, grupos focales y revisión documental. Dentro de los hallazgos de la situación actual, se determina que el Departamento carece de una cultura en gestión de proyectos y aunque cuenta con algunos procedimientos y plantillas, es necesario que los colaboradores cuenten con una mayor capacitación en temas de administración de proyectos, así como estandarizar los procesos de las diferentes fases de los proyectos por medio de una guía estructurada y clara que contenga la documentación existente y se complemente con la nueva información que se está proponiendo. Además se plantea que se mejore el seguimiento y control de forma ordenada y documentada, con el fin de controlar adecuadamente el desarrollo de los procesos de principio a fin. Este proyecto de graduación brinda una Guía Metodológica basada en el marco referencial de los estándares y mejores prácticas del Project Management Institute dados en la Guía del PMBOK®, con base en lo cual, se realizó una integración entre las áreas de conocimiento y los procesos requeridos en las fases del ciclo de vida de los proyectos, además de los procesos comunes de cada una de las fases, para proponer la Gestión de Proyectos en el Departamento de Arquitectura del Ministerio de Hacienda. Además se incluye en este trabajo, una estrategia para la implementación de la Guía Metodológica para la gestión de proyectos, la cual contiene, la propuesta de un plan de concientización, un plan de capacitación y un plan de prueba de la xviii metodología mediante el cual se podrán realizar los ajustes necesarios antes de la oficialización de la Guía para uso en todos los proyectos del Departamento. Se puede concluir a partir de este trabajo que la Guía Metodológica aquí planteada es una respuesta coherente a la problemática encontrada y brinda solución al manejo de los proyectos del Departamento, dado que ofrece un modelo estructurado, claro y estandarizado para ordenar el trabajo que se realiza durante las fases del ciclo de vida de los proyectos, pretendiendo con esto agilizar los procesos, mejorar la coordinación de las actividades entre los diferentes interesados y documentar los resultados del trabajo para facilitar el seguimiento y control de los proyectos. Finalmente se reitera la recomendación respecto a la oficialización de la Guía Metodológica, para que la Dirección Administrativa y Financiera emita una directriz, así como una serie de políticas institucionales, apoyada por los altos jerarcas del Ministerio, las cuales respalden la utilización de la Guía para el desarrollo de todos los proyectos de infraestructura y que además promuevan el abordaje del programa de sensibilización y capacitación en temas de proyectos.
The propose final graduation project was developed in the Architectural Department of Ministerio de Hacienda, with the purpose of offering a structured solution for infrastructure management projects that are executed for the institution. An exploratory research methodology and applied methodology was used, because its purpose is to give a solution to an existing problem; with the application of different techniques, among them unstructured interviews, questionnaires, focus groups, and documentary reviews. Within the findings of the actual situation, it is determined that the Department lacks knowledge in project management and although it has some procedures and templates, it is necessary that employees have more training in project management themes, as well as standardize processes of the different phases of the projects by means of a structured and clear guide that contains the existing documentation and complemented with the new information that is being presented. It is also suggested to improve the monitoring and control in an organized and documented manner, in order to appropriately control the development of the processes from beginning to end. This graduation project provides a Methodological Guide based on the reference framework of the standards and best practices of the Project Management Institute (given in the PMBOK® Guide), based on which, an integration was made between the areas of knowledge and processes required in the different phases of the project lifecycle in addition to the common processes of each of the phases, to propose the Project Management in the Architecture department of Ministerio de Hacienda. This document includes an implementation strategy of the Methodological Guide for project management, which contains the proposal of an awareness plan, a training plan and a test plan of the methodology through which they will be able to make the necessary adjustments before the final official Guide is ready to be use in all the Department projects. xx It can be concluded that the presented Methodological Guide is a coherent response to the identified problems and provides a solution to the management of the Department projects, since it offers a structured, clear and standardized model for ordering the work done by during the lifecycle of the different phases of the projects, pretending to speed up the processes, improve the coordination of the activities among the different stakeholders, recording the results to facilitate the monitoring and control of the projects in the future. Finally, it restates the recommendation about the implementation of the Methodological Guide, in order to the Administrative and Financial Division to release a guideline, as well as a series of institutional strategies, supported by the top executives of the institution, which support the use of the Guide for the development of all infrastructure projects and also to promote the approach of the awareness and training program on project issues.
Description
Proyecto de Graduación (Maestría en Gerencia de Proyectos) Instituto Tecnológico de Costa Rica, Área Académica de Gerencia de Proyectos, 2018.
Collections