Un rol fundamental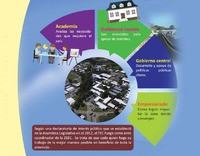 Date
2018
Author
TEC, Oficina de Comunicación y Mercado
Educational Resource
Abstract
En una Zona Económica Especial o en una Agencia para el Desarrollo, absolutamente todos juegan un rol fundamental. La Academia, en este caso el TEC, es quien lidera y coordina la estrategia. "Como somos un referente nacional, eso nos ha permitido ir abriendo puertas, tener mesa llena cuando convocamos", menciona Silvia Hidalgo Sánchez, coordinadora de la ZEE de Cartago. Como sector académico, han podido analizar cuáles son las necesidades más urgentes que requiere el país en su currículo, así como orientar a los colegios técnicos y otras entidades en los requerimientos del capital humano, que sin duda es esencial en todo este proceso.
Source
Pensis. XI Edición (abril/junio), 2018
Resource type
Illustration
Intended users
General public
Educational level
Level::High School Diploma, Level::University.
Keyword
Gobierno local, Empresas, Desarrollo.
Structure
Atomic
This structure corresponds to individual objects. For example, images, charts and figures.
Aggregation Level
1
The lowest level of aggregation. For example, multimedia or fragments.
Interactivity Type
Expositive
Cognitive Process
Describe
Show more info
The following license files are associated with this item: