Diagnóstico para determinar las estrategias metodológicas que poseen los docentes de los Colegios Técnicos Profesionales de San Carlos según la Ley N°7600, 2016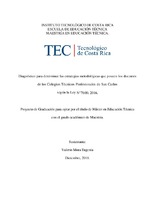 Date
2018
Author
Valerio-Mora, Eugenia
Abstract
This research also addresses general information about the selected technical colleges and the staff working in them; characterization of teachers in terms of experience, training on disability issues, quantity and type of students with special educational needs, institutions that provide resources and support at the national level, and the skills, skills and strategies that teachers apply in the process of educational inclusion, and use the internet as a means of training or research and consultation. Based on this investigation, analyze the importance to get a specific reference about it and allows teachers to direct the work they do with students with disabilities according to national guidelines and thus to respond to educational inclusion efficiently.
Esta investigación aborda información general acerca de los colegios técnicos seleccionados y del personal que labora en ellos. Las características de docentes en cuanto a experiencia, capacitación que poseen en torno al tema de discapacidad, número y tipo de estudiantes con necesidades educativas especiales que atienden, instituciones que brindan recursos y apoyo a nivel nacional, además las habilidades, destrezas y estrategias metodológicas que los profesores aplican en el proceso de inclusión educativa, asimismo si utilizan internet como medio de formación. A partir de esta investigación se analiza la importancia de contar con referencias específicas que permitan a los docentes dirigir el trabajo que realizan con estudiantes que poseen discapacidad, de acuerdo con directrices nacionales y respondiendo a la inclusión educativa, de manera eficiente.
Description
Proyecto de graduación (Maestría en Educación Técnica). Instituto Tecnológico de Costa Rica, Escuela de Educación Técnica, 2018.
Collections