Propuesta de un programa de control para la exposición ocupacional a calor en las tareas de mantenimiento y desarrollode líneas eléctricas del ICE sub Región San Isidro.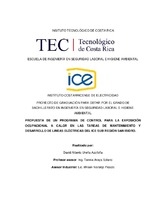 Fecha
2018
Autor
Ureña-Azofeifa, David
Resumen
The project was developed in the ICE group, in the San Isidro del General subregion, the research was based on the maintenance and development of power lines. This project was born due to the need of the company to know the real environmental conditions that are faced daily by the collaborators of ICE crews, they perform work under direct exposure to the sun and show their managers of Occupational Health and the doctor of Company discomfort due to exposure to hot environments. The environmental risk factors temperature and relative humidity, typical of the South Pacific area, as well as the low wind speed in the work areas, can cause damage to the health of workers who are exposed to heat; it was possible to determine that 48% had cramps, 94% of them reported feeling fatigue and intense sweating, there were no cases of heat stroke or sunstroke, however, they are present risks in exposure to thermal stress. Other factors related to occupational exposure to heat were analyzed, such as the age at which a range of 39 years was found and the BMI in which it was identified that 72% of the employees were overweight, 28% of them reported having problems of health such as hypertension and diabetes. In addition, it was determined that the degree of isolation of clothing is 0.9 CLO which attends to the exchange of heat. To evaluate the exposure, the TGBH ° C index of the INTE-ISO 7243 was used, and the UNE-EN ISO 8996 to analyze the Metabolic Load, with this it was determined that in the tasks of construction of lines and descuaje the values of TGBH ° they registered levels of 28 to 32 ° C and the metabolic values of the tasks presented moderate and high levels in a range of 200 to 260 W / m2, which affects thermal stress. It is recommended the implementation of hydration, shade and rest procedures, as well as training and protocols to prevent and control exposure to occupational heat.
Descripción
Proyecto de graduación (Bachillerato en Ingeniería en Seguridad Laboral e Higiene Ambiental) Instituto Tecnológico de Costa Rica, Escuela de Ingeniería en Seguridad Laboral e Higiene Ambiental, 2018.
Colecciones