Establecimiento y validación del Modelo Tarifario de ARESEP de Operación y Mantenimiento para Auto Transportes LUMACA S.A.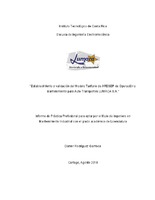 Date
2018
Author
Rodríguez-Gamboa, Danier
Abstract
The public transport industry of people is mostly governed by practical empirical knowledge in decision making where numerical values are not usually considered in the maintenance of the units, ignoring them and being carried away by the experience, this is why a new knowledge and update scheme is opened where engineering takes an important role in decision making and orientation of the strategies to achieve the objectives set by the companies, and thus guarantee better services. This project sets a precedent in Industrial Maintenance Engineering given that it allows to open a path in this industry by proposing a statistical study that allows analyzing large volumes of information to make better decisions, as well as a better application of preventive maintenance plans and thus offer better quality services for users, at a general level no study of this nature has been conducted in any company at national and international level, however it allows to guide future companies on the same north and at the same time initial parameters are set to be able to compare with other companies, establishing real and tangible goals. These values found in the company would lose merit if they stop calculating, which is why the project includes an Balanced Scorecard that, thanks to the initial data obtained in the statistical study, establishes optimal operating goals. of the indicators used to evaluate the application of the Management Model of the Maintenance Department in the company.
Description
Proyecto Final de Graduación (Licenciatura en Ingeniería en Mantenimiento Industrial ) Instituto Tecnológico de Costa Rica, Escuela de Ingeniería Electromecánica, 2018.
Collections