Propuesta de Modelo de Gestión para el Programa de Mantenimiento por Contratos del Benemérito Cuerpo de Bomberos de Costa Rica"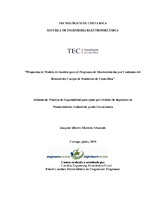 Date
2019
Author
Montero-Alvarado, Joaquín Alberto
Abstract
Este proyecto se desarrolló en el Departamento de Servicios Generales del Benemérito Cuerpo de Bomberos de Costa Rica, específicamente en el Programa de Mantenimiento por contratos. Este programa se encarga de supervisar el mantenimiento tercerizado de los equipos de las estaciones de servicio ubicadas en todo el territorio nacional. El proyecto busca actualizar y optimizar la gestión de mantenimiento del programa, de modo que se cumplan los estándares y requerimientos de la institución. Como metodología se realiza una evaluación mediante la norma COVENIN 2500-93 para determinar el estado actual del programa señalando las competencias y las deficiencias. Esto se utiliza como punto de partida para realizar el análisis correspondiente, definición de objetivos, estrategias, brechas y mejoras. Seguidamente, se plantean los requisitos que debe contener el modelo de gestión de mantenimiento para el programa mediante múltiples fuentes consultadas, tomando en cuenta los objetivos organizacionales en busca de la mejor adaptación al programa como tal. La propuesta del modelo se basa en un Cuadro de Mando Integral identificando los indicadores necesarios para una gestión eficiente. Dentro de las herramientas del modelo de gestión planteado se especifican la estandarización de la documentación necesaria del programa y el planteamiento del sistema de información de mantenimiento requerido. Finalmente, se formula una estrategia de implementación y cambio cultural, con el fin de proporcionar la metodología adecuada para garantizar un uso exitoso del modelo planteado.
This project was developed in the Benemérito Cuerpo de Bomberos de Costa Rica, specifically in the maintenance program by contract. This program oversees supervision of the outsourcing maintenance of the equipment in each firefighting service station located throughout the country. The project seeks to update and optimize the maintenance management of the program so that the standards and requirements of the institution are met. As a methodology, an evaluation is carried out using the Covenin 2500-93 standard to determine the current state of the program by indicating the virtues and deficiencies. This is used as a starting point for performing the corresponding analysis, defining objectives, strategies, which gaps exist and the necessary improvements to achieve high efficiency maintenance. After the evaluation, the components and requisites for the maintenance management model are defined using multiple sources, considering the organizational objectives in search of the best model to adapt to the current program. The model's proposal is based on a Balanced ScoreCard identifying the performance indicators needed for efficient management. Within the tools of the proposed management model are specified the standardization of the documentation of the program and the necessary requirements of the maintenance information system. Finally, a strategy of implementation and cultural change is formulated in order to provide the appropriate methodology to ensure a successful use of the proposed model.
Description
Informe de Práctica de Especialidad (Licenciatura en Mantenimiento Industrial) Instituto Tecnológico de Costa Rica, Escuela de Ingeniería Electromecánica, 2019.
Collections