Carbono Neutralidad ¡Es hora de cambiar!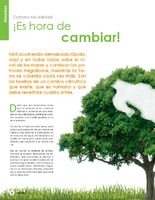 Installation remarks
Descargar el PDF y abrir con cualquier programa en cualquier sistema operativo. También se puede acceder al artículo en la web. Browser: Cualquiera. Browser plugin: Adobe reader.
Date
2015
Author
Oficina de Comunicación y Mercadeo, Instituto Tecnológico de Costa Rica
Publisher
Garita-Granados, Carla, Quesada-Araya, Jorge, Garro-Ureña, Rony.
Editor
Mesén-Cepeda, Ma. Martha
Graphical designer
Chacón-Quesada,Kristel, Robles-Cruz, Tracy.
Technical implementer
Sequeira-Oreamuno, Daniel, Rosales-Purizaca, Carlos A., Herranz-Berzosa, Carmen.
Technical validator
Garro-Sánchez, Daniel
Educational Resource
Abstract
En este artículo se hace una introducción sobre la carbono neutralidad y algunos factores de los cuales depende, como la huella de carbono. Además, se brinda un panorama actual de cómo está Costa Rica respecto a este parámetro y cómo puede el país alcanzar la carbono neutralidad
This paper introduces carbon neutrality and some factors on which it depends, such as the carbon footprint. In addition, there is a current picture of how Costa Rica is regarding this parameter and how the country can achieve carbon neutrality.
Source
Pensis. I Edición (enero / marzo, 2015)
Resource type
Narrative text, Hypertext.
Intended users
General public
Educational level
Level:: Technical Education, Level::III Cycle, Level::Diversified Education, Level::Diversified Education, Level::High School Diploma, Level::University.
Subject
Subject::Science::General
Keyword
Huella de carbono, Consumo energético, ONU, Dieta energética..
Structure
Atomic
This structure corresponds to individual objects. For example, images, charts and figures.
Aggregation Level
2
Level 2 is a collection of level 1 objects (multimedia or fragments). For example a lesson.
Interactivity Type
Expositive
Cognitive Process
Analyse, Understand, Contextualize, Explain, Consider.
Show more info
The following license files are associated with this item: