Buscamos maximizar la captura de carbono.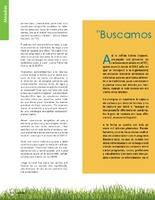 Installation remarks
Descargar el PDF y abrir con cualquier programa en cualquier sistema operativo. También se puede acceder al artículo en la web. Browser: Cualquiera. Browser plugin: Adobe reader.
Date
2015
Author
Oficina de Comunicación y Mercadeo, Instituto Tecnológico de Costa Rica
Publisher
Garita-Granados, Carla, Quesada-Araya, Jorge, Garro-Ureña, Rony.
Editor
Mesén-Cepeda, Ma. Martha
Graphical designer
Chacón-Quesada, Kristel, Robles-Cruz, Tracy.
Technical implementer
Sequeira-Oreamuno, Daniel, Herranz-Berzosa, Carmen, Rosales-Purizaca, Carlos A..
Technical validator
Garro-Sánchez, Daniel
Educational Resource
Abstract
De primera mano, este artículo describe la reactivación que tuvo el TEC en materia de reforestación, en donde se está maximizando la captura de carbono por terreno y no por árbol, con más de once mil árboles plantados hasta esa fecha.
At first hand, this article describes the reactivation of the TEC in reforestation, where carbon capture is being maximized by the terrain and not by tree, with more than once a thousand trees planted until that date.
Source
Pensis. i Edición (enero / marzo, 2015)
Resource type
Narrative text, Hypertext.
Intended users
General public
Educational level
Level::III Cycle, Level:: Technical Education, Level::Diversified Education, Level::High School Diploma, Level::University.
Subject
Subject::Science::General
Keyword
Árboles, Captura, Carbono, Reforestación, Suelo.
Structure
Atomic
This structure corresponds to individual objects. For example, images, charts and figures.
Aggregation Level
2
Level 2 is a collection of level 1 objects (multimedia or fragments). For example a lesson.
Interactivity Type
Expositive
Cognitive Process
Understand, Communicate, Contextualize, Describe, Explain, Innovate.
Is part of
Carbono Neutralidad ¡Es hora de cambiar!
Show more info
The following license files are associated with this item: