El reto hacer que funcione bien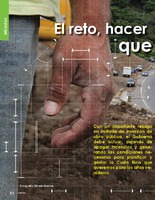 Installation remarks
Descargar el PDF y abrir con cualquier programa en cualquier sistema operativo. También se puede acceder al artículo en la web. Browser: Cualquiera. Browser plugin: Adobe Flash Player.
Date
2015
Author
Oficina de Comunicación y Mercadeo, Instituto Tecnológico de Costa Rica
Educational Resource
Abstract
Este artículo pretende hacer una crítica al estado, ya que, se dice que en materia de inversión de obra pública, el Gobierno debe actuar, dejando de apagar incendios.
This article pretends to make a critic to the state, since, it is said that in matters of public works investment, the Government must act, ceasing to put out fires.
Source
Pensis. I Edición (enero / marzo, 2015)
Resource type
Narrative text, Hypertext.
Intended users
General public
Educational level
Level::Diversified Education, Level:: Technical Education, Level::High School Diploma, Level::University.
Keyword
MOPT, Infraestructura, Inversión, Planificación, CFIA.
Structure
Atomic
This structure corresponds to individual objects. For example, images, charts and figures.
Aggregation Level
2
Level 2 is a collection of level 1 objects (multimedia or fragments). For example a lesson.
Interactivity Type
Expositive
Cognitive Process
Understand, Communicate, Describe, Discuss, Self assessment, Explain, Judge.
Has part
APPs, un modelo posible, Sobre el CIVCO.
Show more info
The following license files are associated with this item: