¿Podrá América Latina salvar al planeta?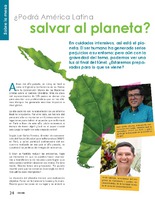 Installation remarks
Descargar el PDF y abrir con cualquier programa en cualquier sistema operativo. También se puede acceder al artículo en la web. Browser: Cualquiera. Browser plugin: Adobe Flash Player.
Date
2015
Author
Oficina de Comunicación y Mercadeo, Instituto Tecnológico de Costa Rica
Publisher
Garita-Granados, Carla, Quesada-Araya, Jorge, Garro-Ureña, Rony.
Editor
Mesén-Cepeda, Ma. Martha
Graphical designer
Robles-Cruz, Tracy
Technical implementer
Chacón-Quesada, Kristel, Sequeira-Oreamuno, Daniel, Rosales-Purizaca, Carlos A., Herranz-Berzosa, Carmen.
Technical validator
Garro-Sánchez, Daniel
Educational Resource
Abstract
Este artículo pretende a través de una interrogante, cuestionar sobre la posibilidad de revertir los efectos de los gases del efecto invernadero alrededor del globo. Primeramente, se muestra un panorama oscuro en donde la falta de compromiso en materia ambiental por parte de las grandes potencias como Estados Unidos y China, generan ideas desfavorables, sin embargo, se presenta un grado estrecho pero esperanzador de satisfacción al voltear la mirada hacia América Latina, ya que, sus políticas y posiciones en materia de gestión ambiental son interesantes.
This article seeks to question the possibility of reversing the effects of greenhouse gases around the globe. Firstly, it shows a dark panorama where the lack of commitment in environmental matters by the great powers like the United States and China, generate unfavorable ideas, however, there is a narrow but hopeful degree of satisfaction when turning the gaze towards America Latin America, since its policies and positions on environmental management are interesting.
Source
Pensis. I Edición (enero / marzo, 2015)
Resource type
Narrative text, Hypertext.
Intended users
General public
Educational level
Level:: Technical Education, Level::Diversified Education, Level::High School Diploma, Level::University.
Subject
, Subject::Science::Biology.
Keyword
Transmisión, Mitigación, Inversión, Emisiones, Gases, Efecto invernadero.
Structure
Atomic
This structure corresponds to individual objects. For example, images, charts and figures.
Aggregation Level
2
Level 2 is a collection of level 1 objects (multimedia or fragments). For example a lesson.
Interactivity Type
Expositive
Cognitive Process
Analyse, Understand, Communicate, Contextualize, Explain, Consider.
Show more info
The following license files are associated with this item: