Visión conjunta, de largo plazo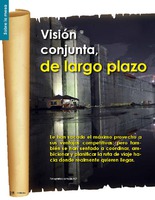 Installation remarks
Descargar el PDF y abrir con cualquier programa en cualquier sistema operativo. También se puede acceder al artículo en la web. Browser: Cualquiera. Browser plugin: Adobe Flash Player.
Date
2015
Author
Oficina de Comunicación y Mercadeo, Instituto Tecnológico de Costa Rica
Educational Resource
Abstract
Este artículo habla sobre los avances y crecimiento que Panamá, su planificación en construcción a largo plazo y el dinamismo de este sector. Esto se logró a través de la sinergia y comunicación entre el gobierno y la empresa privada.
This article talks about the advances and growth that Panama, its planning in construction in the long term and the dynamism of this sector. This was achieved through synergy and communication between government and private enterprise
Source
Pensis. II Edición (abril / junio, 2015)
Resource type
Narrative text, Hypertext.
Intended users
General public
Educational level
Level::Diversified Education, Level:: Technical Education, Level::High School Diploma, Level::University.
Keyword
Desarrollo, Infraestructura, Planificación, Construcción, Panamá.
Structure
Atomic
This structure corresponds to individual objects. For example, images, charts and figures.
Aggregation Level
2
Level 2 is a collection of level 1 objects (multimedia or fragments). For example a lesson.
Interactivity Type
Expositive
Cognitive Process
Communicate, Describe, Explain, Recognize, Consider.
Show more info
The following license files are associated with this item: