En el centro del ciudadano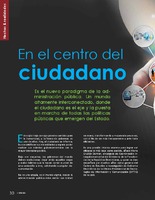 Date
2016
Author
Oficina de Comunicación y Mercadeo, Tecnológico de Costa Rica
Educational Resource
Abstract
El ciudadano como eje principal para la gestión pública de los gobiernos. Lo que se pretende es que al utilizar medios digitales para los procesos, éstos últimos sean más eficientes y menos burocráticos. También sucede que el ciudadano desea mantenerse informado, por lo cual investiga y lee, pidiendo a la administración que publique informes ya sea en plataformas digitales o en algún medio que facilite la obtención de la información acerca de la manera en que se gestionan los recursos.
The citizen as the main axis for the public management of governments. What is intended is that when using digital media for processes, the latter are more efficient and less bureaucratic. It also happens that the citizen wants to keep informed, so he investigates and reads, asking the administration to publish reports either on digital platforms or in some medium that facilitates the obtaining of information about the way in which the resources are managed.
Source
Pensis. V Edición (enero/marzo), 2016
Resource type
Narrative text
Intended users
General public
Educational level
, Level::High School Diploma, Level::III Cycle.
Keyword
Información pública, Administración pública, Tecnologías de información, Políticas, Procesos.
Structure
Collection
This structure corresponds to sets of objects without a relation among them.
Aggregation Level
2
Level 2 is a collection of level 1 objects (multimedia or fragments). For example a lesson.
Interactivity Type
Expositive
Context
Real environment, Teacher, Family.
Cognitive Process
Analyse, Describe, Consider.
Is part of
PENSIS V Edición
Show more info
Collections