Un nuevo esquema de posibilidades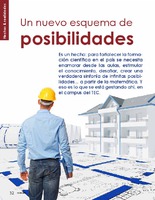 Date
2015
Author
Oficina de Mercadeo y Comunicación
Educational Resource
Abstract
El artículo trata acerca como la matemática debe ser enseñada. El TEC está consciente de la importancia del interés que se debe de tener respecto a esta materia y de la reforma nueva planteada.
The article is about how mathematics should be taught. The TEC is aware of the importance of the interest that must be had in this matter and the new reform proposed.
Source
Pensis. III Edición (julio/setiembre, 2015)
Resource type
Photograph, Narrative text, Hypertext.
Intended users
General public
Keyword
Matemáticas, Profesores universitarios, Pruebas académicas, Probabilidades.
Structure
Collection
This structure corresponds to sets of objects without a relation among them.
Aggregation Level
1
The lowest level of aggregation. For example, multimedia or fragments.
Interactivity Type
Expositive
Cognitive Process
Describe
Show more info
The following license files are associated with this item: