Sistema de adquisición remota y almacenamiento de datos de equipos de medición en el proceso de control de calidad de la empresa Trimpot Electrónicas Ltda.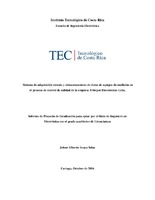 Date
2016
Author
Araya-Salas, Jeison Alberto
Abstract
Trimpot Electrónicas Ltda. designs and manufactures several electronics components, so is necessary to use different quality control tools to monitor through some measurement equipment if the final products accomplish with the desired functions and specifications. The used measurement devices are the calipers, height indicators, multimeters and laser thrubeam sensors. The current quality control process involves high times of data typing, visualization and analysis. Additionally the process needs to use paper for save data and it implies to use spaces for the storage of the different physical and electric variables of measurement devices. An application was developed in LabVIEW, able to communicate the Keithley 2700 multimeter or Keithley 2400 SourceMeter by the IEEE-488 protocol, besides the laser thrubeam sensor through a serial communication interface RS-232 and an analog output through a LabJack DAQ. Also, a converter Digimatic-USB prototype was designed in the board named "Pro Trinket 5V", to export the caliper and height indicator's information to the LabVIEW application. Finally, a database was implemented in Microsoft Access, which communicates with LabVIEW through an ODBC.
Description
Proyecto de Graduación (Licenciatura en Ingeniería Electrónica) Instituto Tecnológico de Costa Rica. Escuela de Ingeniería Electrónica, 2016.
Collections